Essential Information About Covid-19 and Recent Events November 11, 2020: Urgent Update
Please be advised that the NYCDOH has informed us that we cannot reopen school until Friday November 20, 2020. The HeartShare School located at 1825 Bath Avenue, Brooklyn, New York, 11214, will remain on remote learning through November 19 and will reopen for in-person instruction on Friday November 20, 2020. The building has been fully disinfected and all students and staff will be tested prior to their return on November 20. Again, in person instruction will resume on Friday November 20, 2020.
In these times we wish to preserve and protect all students and staff. Stay Safe everyone.
Carol Verdi
Executive Director
HeartShare Education Center
November 6, 2020
Please be advised that effective today, November 6, 2020, The HeartShare School located at 1825 Bath Avenue, Brooklyn, New York, 11214, will be closed to in-person instruction for the next 14 days due to multiple reported cases of exposure to COVID-19. As per our reopening plan and advice from the NYCDOH, we will close the building, fully disinfect and revert to remote-only learning, extending to November 18, 2020. In-person instruction will resume on Thursday November 19, 2020. In these times we wish to preserve and protect all students and staff. Stay safe everyone.
Carol Verdi
Executive Director
HeartShare Education Center
October 28, 2020
In light of recent New York State Covid mitigation strategies and NYS OPWDD and NYS Department of Health guidance documents, HeartShare is now strongly requesting that all service recipients be tested for COVID-19 if they live in a certified residence/apartment and/or if they participate in a day program that is in a Hot Spot zone (red, orange or yellow). Attached are informational letters HeartShare recently sent to the family members and advocates of those supported, along with the OPWDD Cluster Zone Mitigation Guidance.
June 9, 2020
Preschool and School-Age Programs
HeartShare's teachers, teacher assistants and related therapy providers have been "Hidden Heroes" for all the work they are doing during the pandemic. Their dedication, passion and creativity to continue to amaze, including in these specific ways:
The education programs started a HeartShare Education YouTube channel where the teaching staff and other providers created live videos so the children could see familiar faces and feel comfortable during the adjustment.
While conducting tele-therapy, there was a realization that some families did not have adequate supplies. The Clinical Coordinator of Social Work/Psych recruited donations and staff delivered activity supply packets to each child's house for those in need.
For Teacher Appreciation Week the Director and Educational Supervisor at the Cuomo First Step Preschool asked the families to send in notes for the staff and then created a PPT to share with all the staff.
The HeartShare School traditionally has a Parade for Autism Awareness Month. This year, they created a virtual parade to enable the students and staff to still participate in Autism Awareness month.
The children who attend The HeartShare School and live in our Children's Residential Program helped the Knights of Columbus make food packages for those in need in their community. Utilizing the auditorium next to their residence, the children, along with their Direct Support Professionals, packed hundreds of pounds of fruits and vegetables while remaining socially distanced and wearing masks and gloves.
Teacher assistants at the HeartShare School have been working weekdays at the Children's Residential Program to ensure that the students are continuing to receive their education and therapy using a classroom model.
Working together, HeartShare's Education and IT Departments created virtual classrooms in Microsoft Teams to enable live instruction for all of our students. They now can see all the students in their class and do their lessons together. iPads provided by NYC DOE enabled all of our students to have access to technology to make this possible.
The schools are doing virtual staff meetings to keep the encouragement of staff up during these trying times. The teachers and therapists are working much longer days trying to accommodate the students' and families' needs. We thank them for the incredible job they are doing!
Residential Services
Within the limitation of only going out in the community for brief neighborhood walks, van rides or outings to a local park while maintaining social distancing, we are doing our best to keep everyone active and engaged, while also easing their restlessness as summer approaches.
Indoors, the residents have been busy cooking, baking, playing board games, enjoying move nights, doing art projects and other activities, and working on their personal goals while learning how to stay safe during the pandemic.
As the weather has gotten nicer, they are enjoying backyard barbeques and other outdoor activities at their homes, including planting vegetable gardens at some of our houses.
Since the day programs closed on March 18, our residential and day services staff have been working tirelessly in the residences to ensure that everyone has continuity in both their day and residential services, whether they attend a HeartShare day program or another agency's day program. We allocate 9 a.m.–3 p.m. daily to work on day program goals and activities and have been using a variety of electronic platforms to keep things interesting—including accessing both live and YouTube art lessons given by HeartShare's part-time artists-in-residence.
Despite being stuck at home, we have had some nice things come to the residences!
On Sunday, April 12, nearly 700 residents and staff enjoyed a delicious Easter/Passover Dinner provided by Russo's on the Bay. We held a special online fundraising initiative to make this possible, and are very grateful to all who donated, including National Grid, which was a major sponsor.

Extra funds raised from this initiative are helping to pay for the more than $85,000 in Personal Protective Equipment (PPE), medical supply and cleaning costs that HeartShare has incurred so far due to the pandemic.
From April 30 through May 11, in an effort to both cheer-up the residents and acknowledge the heroic efforts of their staff, HeartShare administrative staff did drive-by caravans at every residential site, delivering a very loud THANK YOU (along with a container of cookies!) to all. We are especially grateful to our direct support staff, who are our Everyday Heroes.
Sprouting up in June are "HeartShare Heroes" lawn signs distributed to each of our residences, proudly thanking the staff for their heroic efforts during the Covid-19 crisis.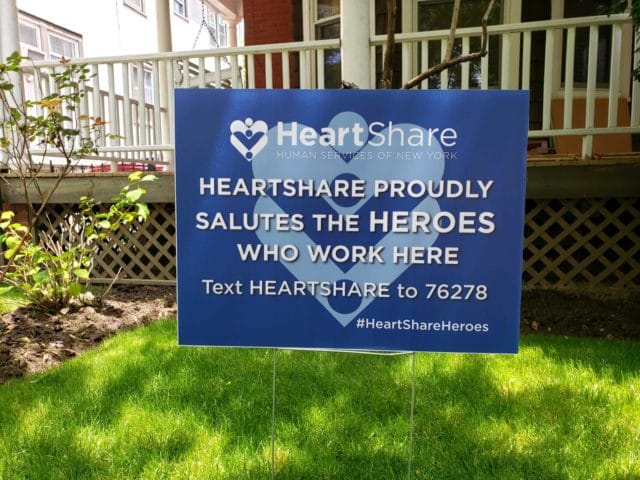 We are also thankful for those family members who have taken the time to say thank you to our staff with a kind word, a written note, a hot meal, a homemade mask, or a Heroes lawn sign. We are all in this together, and it truly warms our hearts when you show how much you care.
Day Services
Since March 18, HeartShare's day services have relocated to our residences for the 350 individuals living in HeartShare 24-hour residences, with many day services staff now working directly in the residences to deliver day services. In addition, we are using a variety of electronic platforms to deliver day services via Community Habilitation to those day services participants who live at home with their families. This includes Facetime, Skype, Zoom and phone. Our Day Hab, Prevocational and Supported Employment staff have been exceptional in their persistence and creativity to keep our day program participant connected and supported during the coronavirus crisis. Here are some highlight:
Queens Day Hab staff have delivered "passports" for their Virtual Travel Program. Each program has received their own travel kit, personally delivered to them by a day hab staff member. Through Google hangout, the group chooses a destination, then researches information about the destination and convenes to discuss what they learned about their virtual travel spot. They also watch YouTube videos together about the destination they have chosen.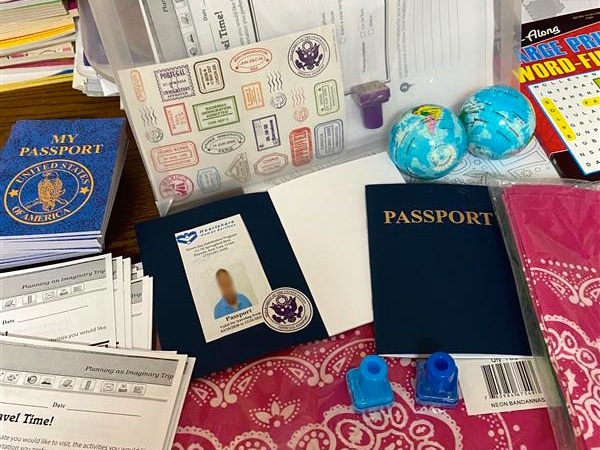 Brooklyn Day Hab (BDH) has initiated many activities to keep the participants who live at home with their families engaged and connected. For them, talking with BDH staff—often three or four times a day—and working on their day hab goals provides a sense of normalcy and calm to their sequestered lives. Facebook Messenger has been used for group chats, with the focus on the importance of wearing masks and social distancing, hand washing, and protecting others as well as ourselves. More recently, the topic has changed to racial injustice, having a voice, and the importance of voting. A beautiful video was created featuring the individuals letting their staff know how much they miss seeing them and their peers in person. Next up are virtual art lessons for the many BDH artists as soon as art supplies can be delivered to the individuals' homes.
Hoffman Day Hab is utilizing a variety of telecommunication platforms to bring music to each individual. The staff are also delivering music-making instruments to each person. Staff are playing different selections of music, and the individual joins in by playing their instrument with the music from their home.
Bay Ridge Day Hab Is using Zoom to have animated group discussions. A current topic is the types of games each of them enjoys playing. Individuals share the game so everyone can participate and try it out.
Brooklyn PACT Day Hab is utilizing FaceTime with individuals to learn about safety in the community during the Covid-19 pandemic. Program staff model hand washing and how to properly wear a mask. Each person is then asked to show off their personal mask, which everyone enjoys doing. Superhero, ninja, and fancy glitter masks are among the many fun masks the participants are wearing.
Article 16 Clinic Long-Term Therapies
During the Covid-19 pandemic, HeartShare Wellness continues to provide Intakes, Psychotherapy/Counseling, Speech Therapy, Psychosocial Evaluations and Psychological Evaluations. The evaluations in particular are needed by young adults who are turning 21 and leaving the school system, and HeartShare Wellness is happy to provide these services.
Psychotherapy/Counseling, Psychosocial and Intake Services are offered via Telephonic (telephone).
Psychological Evaluations are offered in-person on Monday, Wednesday and Friday at our main clinic location in Downtown Brooklyn: 177 Livingston Street, Lower Level
Speech Therapy is offered via Telehealth.
In addition to these services, in-person guardianship interviews/appointments are offered only on Wednesdays by the licensed psychologist.
Please note: HeartShare Wellness adheres to the CDC, state, and local guidelines to ensure the health and safety of all patients and staff by use of PPE and practicing social distancing.
For further information and to make an appointment, please contact:
Angela Thomas, Clinic Director
Cell: 646-915-6361
Fax: 718-237-4940
angela.thomas@heartshare.org
Respite Recreation
HeartShare's Respite Recreation Programs have been meeting virtually on Thursday nights, Friday nights, Saturdays, and Sundays.  Virtual activities include playing live games such as Bingo, Charades and Hangman, playing online games such as Family Feud, watching movies, working out and staying healthy together with Zumba classes, and having dance parties.
Turn it Up Thursday runs every Thursday from 6 p.m.–8 p.m. featuring HeartShare's very own DJ Wheels on the turntable.  This party has a capacity of 60 people or more!
On Friday nights there is a Movie Night, where groups watch a movie together, bringing their own snacks and then critique the movie.
On Sundays, HeartShare hosts Virtual Sunday Brunch.
If you want to help….
Be sure to follow HeartShare on Facebook, Instagram, Twitter, and LinkedIn. If you are able, please lend your support towards the high cost of Covid-19-related PPE, supplies, overtime, and hazard pay at HeartShare, for which we are getting no extra government support. Donations can be made here.
June 5, 2020

All Together Now
Dear HeartShare Family,
Black lives matter. In what world does that even need to be said? This world, unfortunately. The real world. Our world.
In the past few months, the covid-19 crisis has cast a searing harsh light on inequality—specifically, racial inequality—cruely amplified by immoral authorities who have sought power in division for hundreds of years. Reeling from months of isolation and feelings of helplessness, from arguments of who is essential and who is not, from a relentless bombardment of assurances that we are all alone together, we witnessed the monstrous public murder of George Floyd and in an instant we were no longer alone together, we were together, period.
The throngs of justifiably angry protestors chanting "No justice, no peace" in every city of our country and cities around the world are refusing to be manipulated into "us" and "them" any longer. Who are they? They are everyone. Every color, every age, every ability. They are a divisive authority's worst nightmare, a collective rejection of the false divisions fomented by centuries of systemic racism. They are the ones who will be the change. They are us.
HeartShare stands with those peaceful protestors, just as we have always stood with the vulnerable and marginalized. Our dedication to diversity is reflected in our staff and in the communities we serve. Our support is unwavering. We haven't gotten to where we are without raising our voices against forces that have sought to oppress. And we won't stop now. We will not go gentle into that good night. There is no good night for one unless there is a good night for all. Until then, together, we rage for justice and for peace.
Sincerely,
William R. Guarinello
President and Chief Executive Officer
April 21, 2020
Help Us Cover the Hard Costs of Care in a Crisis
Dear HeartShare Family,
In these tumultuous times, the old adage that "the only constant in life is change" seems especially apt, as each day is somehow more unpredictable than the last. HeartShare is no stranger to change, with a history of successfully adapting to circumstance, and with the sudden seismic upheaval of life-as-we-know-it, we've had to quickly evolve to meet the needs of an unprecedented situation that affects the very heart of HeartShare.
Overnight, our group homes have become 24/7 medical facilities, no visitors allowed. Our front-line Direct Support Professionals have become first responders, bravely risking their own safety to ensure the safety of others. Personal Protective Equipment (PPE) has become an official uniform. Living rooms have become classrooms as our schools shifted to remote learning. And despite all precautions, we've suffered illness, loss and heartbreak, gently tempered by a family's gratitude for taking care of a son, a daughter, a sister, a brother. "To know that my Josh is safe and happy is a blessing," wrote one mother.
The new dimensions of service we've instituted come with unbudgeted expenses. N95 masks cost as much as $20 each, and a gallon of hand sanitizer can go for $120, depending on the day. To help recoup these costs, we're updating our traditional event-focused fundraising efforts to include a direct appeal, a creative reimagining and a postponement: The HeartShare Spring Gala, our biggest annual fundraiser, will become a fall Gala as the date is moved to Tuesday, September 22, with the festivities taking place at New York's iconic Ziegfeld Ballroom. Additional details will follow. For now, here's what's happening and how you can help:
Covid-19-Related Expenses: To date, we've incurred nearly $400,000 in costs for Personal Protective Equipment (PPE) for our staff and individuals, including N95 and surgical masks, gloves, glasses, goggles, gowns, gloves, face shields and infrared thermometers, in addition to hand sanitizer, cleaning supplies and disinfecting services. There will, no doubt, be other unexpected costs in the immediate future. Donate here if you'd like to help offset those costs.
YES, I'D LIKE TO HELP PAY FOR PPE
Buckley's–Kennedy's 5K Charity Run: Instead of a 5K run through the streets of Breezy Point, the 40th edition of this popular community fundraiser in support of HeartShare will be a virtual celebration on a dedicated Facebook page, where new and former runners can share their favorite memories, photos and videos and also participate in the annual raffle. Additional details to come. In the meantime, join the Facebook page!
YES, I'D LIKE TO JOIN THE RUN ON FACEBOOK
There will, undoubtedly, be additional changes in the coming days, weeks and months. Even these changes are subject to change—it's a fact of life we live with now. But for every new challenge this situation poses, HeartShare will rise to the occasion with your continued support. We simply can't do it without you. And we simply can't thank you enough.
Please take care and stay safe.
Sincerely,
William R. Guarinello
President and Chief Executive Officer
April 7, 2020
HeartShare President & CEO William R. Guarinello Appears on "Good Day New York"
Our President and CEO William R. Guarinello appeared via Zoom on FOX 5 / Fox5NY.com's "Good Day New York" this morning to talk with cohost and HeartShare Board Member Rosanna Scotto Fox 5 about the effect of the coronavirus crisis on HeartShare and other nonprofits that care for those with intellectual and developmental disabilities, the perseverance of Direct Support Professionals, the need for PPE and how you can support HeartShare right now. Click the photo below to watch the interview.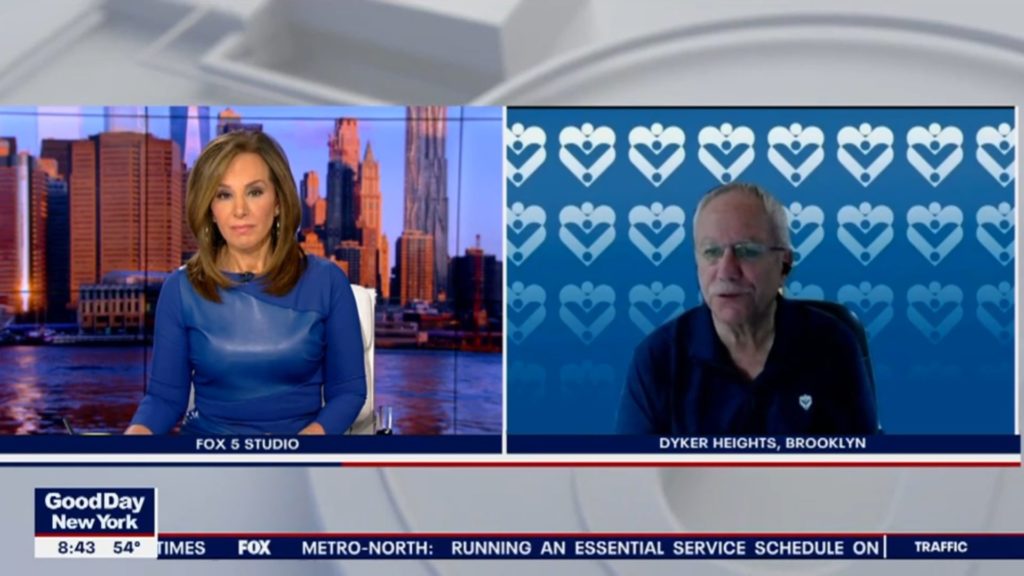 March 25, 2020
Update: HeartShare Responds to the Coronavirus (COVID-19)
Dear HeartShare Family,
I hope that you and your loved ones are safe in these uncertain times. I'm reaching out to provide an update on how HeartShare is responding to the challenges posed by the coronavirus (COVID-19) crisis. Here is what we're doing:
HeartShare Preschools, UPK and School-Age Programs: All were closed on March 16, in accordance with New York City and New York State directives. We plan to reopen on Monday, April 20, unless government entities decide to extend the closure. In the meantime, our preschool and school-age staff has become very creative with remote learning. In addition to reaching out to the children and their parents directly, we have created a HeartShare Education channel on YouTube (photos from some of the videos are pictured above): https://bit.ly/2xosC07
Day Services: Our leadership teams are working hard to ensure that HeartShare programs continue to provide services to the individuals we support in the best manner possible. All day habilitation and prevocational programs were closed for the foreseeable future on March 17 by directive of the Office of Persons with Developmental Disabilities (OPWDD). Many program staff has been redeployed to work in HeartShare residences. Regardless, we will be reaching out to day services individuals and families daily through phone, Skype and whatever means necessary to stay connected and provide support.
Residential Programs: Per OPWDD mandate, no visitors are permitted at HeartShare residential programs. Individuals who go home to visit their families must remain home until the crisis is over and we are given permission to have them come back. Our residential teams are providing other options like FaceTime, Skype and phone calls for residents to stay in touch with their family members and friends.
COVID-19 Monitoring: HeartShare has adopted stringent infection control procedures in all our residences, and we have a good supply of Personal Protective Equipment (PPE) at the present time due to strong outreach efforts last week. Program staff are monitoring residents daily for COVID-19 symptoms and will contact the nurse and primary care physician immediately as needed. As of March 23, all houses have access to StationMD telehealth services that allow a physician to evaluate the person remotely with special equipment. However, we can only use this service for families who have given their consent for this service. We are keeping in close contact with families on a regular basis and alerting them to any health care issues for their family members
Article 16 Long-Term Therapies: HeartShare has moved to telephone for counseling services, and we have maintained our regular schedule since March 23. We are exploring other options like Zoom and Microsoft Teams as well. We are looking to expand our A.16 telehealth services for evaluations and speech, so please keep in touch with Angela Thomas and her team at: 718-797-2020, ext. 8015.
Community Habilitation: Services are continuing primarily by telephone but with in-person supports in critical situations.
Respite Recreation: All programs have been suspended until further notice, but we are exploring alternative options.
SPA Respite: SPA Respite has been suspended until further notice.
I want to take this opportunity to extend a huge thanks to everyone who is doing their best to navigate uncharted waters, especially our frontline workers. At a time when venturing outdoors and going to work every day represents an extreme act of courage, you consistently go above and beyond and provide an unparalleled level of caring, compassion and commitment. You are HeartShare's first responders.
Thanks also to all those working hard behind the scenes to keep HeartShare functioning as close to normal as possible at our MetroTech headquarters, where most employees are working remotely. Operations are going as smoothly as can be expected given the conditions and that is a remarkable achievement. To everyone working from home, I commend you for pushing through the challenges and finding new ways to accomplish your day-to-day activities.
Many of these unforeseen challenges equate to unforeseen expenses, of course. At a time when we are implementing extraordinary measures to keep our staff and the individuals in our care safe, we are faced with the uncertainty of government support. If you're wondering what you can do to ensure that HeartShare continues to do what it does best, you can show your support by donating today and by sharing this with your family and friends.
With your commitment, we will persevere because that's what HeartShare always does—that's the HeartShare way.
Please stay safe.
Sincerely,
William R. Guarinello
President and Chief Executive Officer
March 19, 2020
The Office of People with Developmental Disabilities (OPWDD) has issued the following:
Health Advisory: COVID-19 Guidance for Operators of Individualized Residential Alternatives (IRAs), Community Residences (CRs) and Private Schools Regarding Visitation
COVID-19 has been detected in multiple communities around New York State. Visitors may introduce COVID-19 infection into the facility. The New York State Office for People With Developmental Disabilities (OPWDD) is issuing the following guidance regarding visitors to IRAs, CRs and Private Schools and other precautions and procedures such facilities must take to protect and maintain the health and safety of their residents and staff during the ongoing novel coronavirus (COVID-19) outbreak.
To prevent the introduction of COVID-19 into IRAs, CRs and Private Schools:
Effective immediately, suspend all visitation except when medically or clinically necessary (i.e., visitor is essential to the care of the resident). In addition:
Any visitors meeting these exceptions must be screened for symptoms (cough, shortness of breath, or fever) or potential exposure to someone with COVID-19 and the duration and number of visits should be minimized.
IRAs, CRs and Private Schools should attempt to provide other forms of communication to meet the needs of their residents.
IRAs, CRs and Private Schools must post signage notifying the public of the suspension of visitation in all facility entrances and in parking lots. In addition, these policies should be posted to the facility's website and social media pages. Thank you for your efforts to contain the spread of COVID-19.
Read the full Advisory

here.
March 17, 2020
Dear HeartShare Families, Friends and Supporters,
I am writing to keep you informed about HeartShare's response to the coronavirus (COVID-19) pandemic. In the interest of the vulnerable populations we serve, I want to assure you that we are closely monitoring and implementing the recommendations of the Centers for Disease Control and Prevention (CDC), New York State Department of Health and New York City Department of Health and Mental Hygiene, in addition to the Office of Persons With Developmental Disabilities (OPWDD), New York State Education Department and the New York Department of Education (DOE).
Here are the measures we're taking:
HeartShare Preschools, UPK and School-Age Programs: All are closed as of Monday, March 16, in accordance with New York City and New York State directives. We plan to reopen on Monday, April 20, unless government entities decide to extend the closure.
Day Services: All HeartShare day habilitation and prevocational programs closed as of Tuesday, March 17, by directive of the OPWDD. For individuals living in HeartShare residences who attended our day programs, day services will be provided onsite in their residences. For individuals living in the community with their families, we are currently formulating plans to keep in touch with them and support ongoing needs.
Residential Programs: We are following all infection-control guidelines and increasing cleaning frequencies. We are also ensuring our residences have ample food, household supplies and medical supplies. Day program staff are being redeployed to work in our residential programs, especially during the daytime hours when individuals would have attended their day habilitation program. HeartShare, along with many of our colleague agencies, have made the difficult but necessary decision to prohibit all visitors to our residences during this critical isolation period. This includes family members.
Respite Recreation: All programs are suspended until further notice.
SPA Respite: We are suspending SPA Respite until further notice.
Article 16 Long-Term Therapies: We are exploring telehealth options for certain services (counseling and speech) and will be informing our service recipients and their families if this possible.
Everyone's health and safety are our principal concerns. We will be in touch with additional information as the situation develops. In the meantime, please take care.
Sincerely,
William R. Guarinello
President and Chief Executive Officer