Accessibility in Performing Arts
By Will J Green – Arts Programming Coordinator
New York lives and breathes performing arts. When you think of shows like Hamilton, Wicked, and The Lion King, you are immediately transported to NYC's busy Broadway Street. We, as New Yorkers, are fortunate to have easy access to a variety of art… but that accessibility should not stop once we arrive at the venue doors. The Lincoln Center has taken the lead in providing Accessible Live Arts to New Yorkers and visitors alike. This month, several day programs at Heartshare were able to visit the Mostly Mozart Relaxed Performance.
"Relaxed Performances are designed for people who are neurodivergent, with autism, or with sensory and communication disorders. The artistic integrity of the piece remains unchanged; however, modifications to the environment may be made. This structure can also be beneficial for families with young children, people who are neurodivergent, and anyone who finds traditional performance protocols do not work for their needs."
– Miranda Hoffner, Associate Director of Accessibility and Guest Services at the Lincoln Center.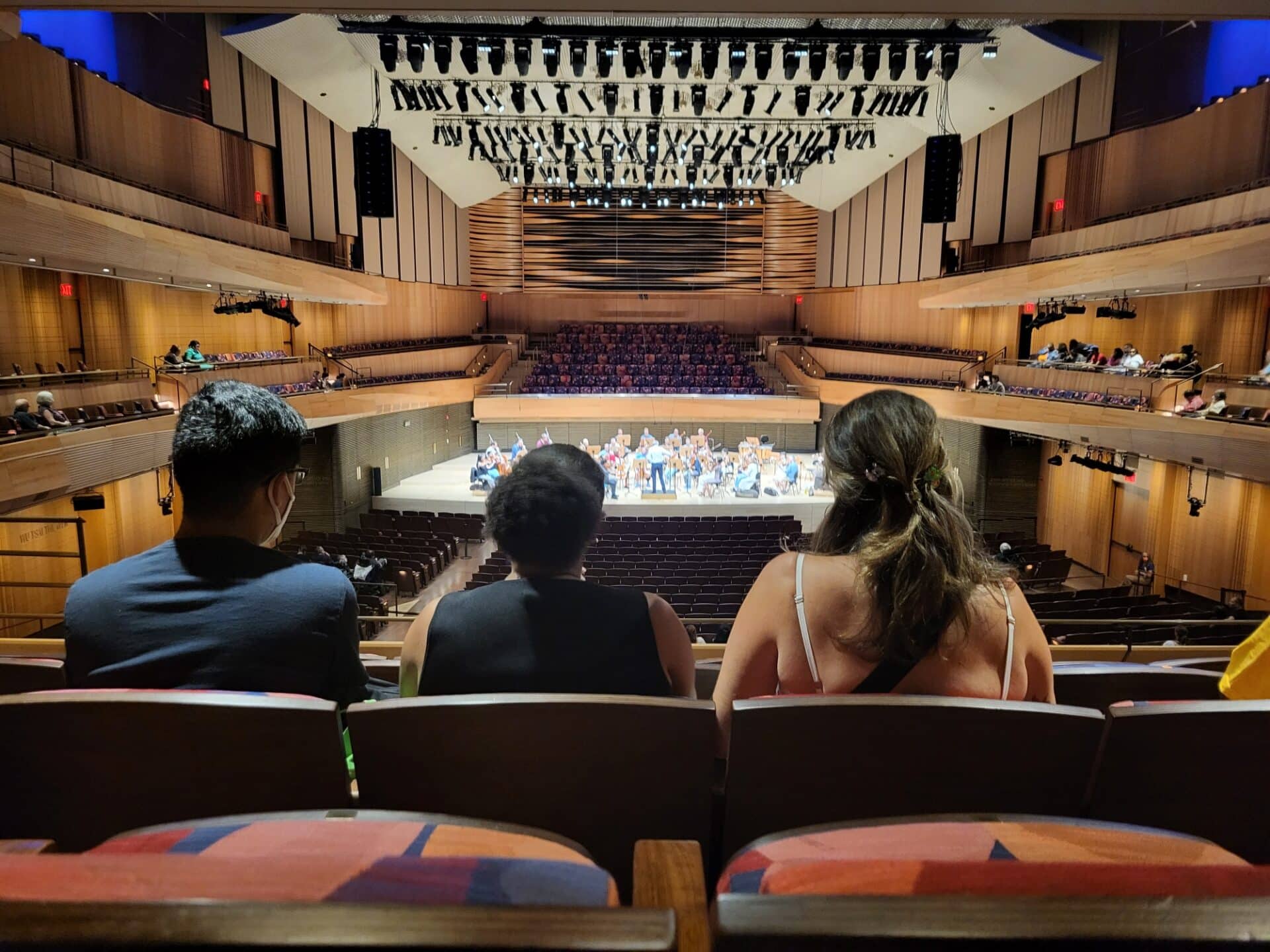 Many Heartshare members and staff, including myself, didn't know what to expect, but once we arrived, we began to understand what an accessible venue could feel like. We were able to enter and leave the audience space throughout the concert as needed. All audience members were allowed to vocalize freely and move throughout the auditorium, and there was a collective understanding that this space was a non "shushing" zone. While we were listening to the full orchestra's interpretation of Mozart, the house lights were adjusted so that the venue was never completely dark, and any bright lights, loud noises, or surprise sensory elements were described in advance. Many of the members were able to take a break from the performance and enjoy the "Chill Out Space," then simply returned when they felt ready. The Lincoln Center also provided visual guides with clear instructions, as well as Noise-reducing headphones and even fidgets for anyone who found them useful. From the moment we entered until it was time to exit, the artists and staff truly embodied what accessibility as a practice and culture could be.
The Lincoln Center has more accessible events planned for this season; all are free to you, your family, and your program. If you are interested in attending one of these events or learning more about them, sign up for the Lincoln Center Passport to the Arts Below!
Lincoln Center Passport to the Arts New Registration
You can help us continue striving for progress with one of the many ways to get involved at HeartShare Human Services:
Sign up for our newsletter at the bottom of the page.