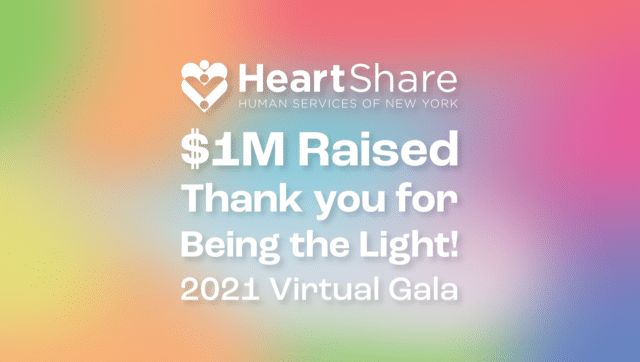 Thanks to everyone who chose to Be the Light at HeartShare's 2021 Virtual Gala, we are thrilled to announce that we reached our event fundraising goal of $1M. The Gala is HeartShare's largest annual fundraising event and the $1M raised will go a long way toward supporting an annual budget that depends, in part, on contributions and donations raised from special events. The funds will help cover unexpected and unbudgeted costs incurred due to COVID-19 and reduced government funding. Ultimately, the funds will be applied to the programs and services HeartShare provides to help people with autism and other developmental disabilities live their best lives: group homes, pre-schools, schools for children and teens with autism, day habilitation programs, vocational training programs and our recreational, family support and long-term therapy services.
"The HeartShare family is incredibly loyal and supportive," says HeartShare President and CEO William R. Guarinello. "The fact that people opened their hearts and their wallets in these tough times speaks volumes about them and we can't thank them enough. The fact that we were able to reach such a challenging goal—not with our usual in-person event, but with a half-live, half-virtual event—speaks volumes about our ability to adapt and innovate, two traits that have defined HeartShare's approach to changing circumstances for more than a hundred years."
Due to the ongoing COVID-19 pandemic, HeartShare's 2021 Virtual Gala was a hybrid event, combining pre-recorded content with a live broadcast. Board Member and co-host of "Good Day New York" Rosanna Scotto opened the show from the Fox 5 Studios in Manhattan and then handed the baton to fellow Board Member, legendary Q104.3 DJ, Radio Hall of Fame Inductee—and good friend—Jim Kerr, live from Gargiulo's Restaurant in Coney Island, where HeartShare President and CEO Bill Guarinello and his family, several Board Members and their families and other HeartShare supporters were gathered for a socially distanced dinner.
Kerr shared the screen with auctioneer CK Swett, encouraging viewers to text donations and bid on an amazing array of items in a silent auction, including a premier item: a David Yurman gold, silver and diamond necklace. Two of the Gala's three honorees accepted their awards in person: Broadridge Financial Solutions, Inc., President Chris Perry graciously accepted the 2021 HeartShare Visionary Award ("Be human. It's not what you take from the world, it's what you give."), and HeartShare President and CEO William R. Guarinello accepted the HeartShare Leadership, Innovation & Impact Award for his incredible 51 years of service at HeartShare.
Guarinello started his career at HeartShare in 1970 as a 20-year-old case worker and steadily rose through the ranks to become Deputy Director in 1980, Executive Director in 1985 and President and CEO in 1993. In his acceptance speech, Guarinello thanked his mentors, colleagues, Board Members, "my loving family" and, most importantly, his wife Donna, "my soulmate for 48 years." The Gala's third honoree, "Inside Edition" anchor Deborah Norville, delivered a moving acceptance speech for the 2021 Heart of a Champion Award via video: "Since tonight's theme is Be the Light, if you are a part of this event, then you are a part of the light."
Keeping emotions—and donations—running high were the evening's pre-recorded segments, including the powerful short film, "A Love Beyond," that profiled Lenin, a nonverbal 39-year-old man with Down syndrome who lost his father to COVID-19 and found a home at HeartShare. In other segments, Laurence Oliveri, a HeartShare Community Habilitation Program participant—and opera singer!—delivered a heart-tugging performance of "You Raise Me Up," longtime HeartShare family member actress Abigail Hawk and husband Bryan Spies delivered a stirring rendition of Lauren Daigle's "Rescue" and HeartShare Board Member Joseph R. Benfante, whose 46-year-old son has been with HeartShare since 1995, brought the house down with his heartfelt tribute to HeartShare and description of what it means to be the parent of a child with autism.
Rosanna Scotto returned to close the show, thanking HeartShare's essential workers for bravely risking their own safety every day to ensure the safety of others, congratulating the 2021 honorees, asking viewers to follow HeartShare on social media and reminding everyone that there's still time to make a donation by texting HSGala2021 to 76278 or by visiting our website at HeartShare.org.
"We can't do what we do without you," said Scotto.