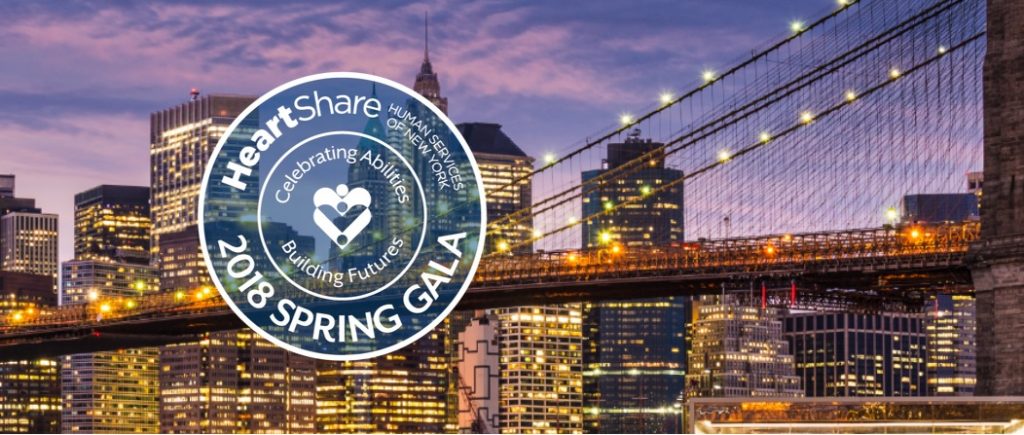 HeartShare Human Services will host its Annual Spring Gala at the New York Marriott Marquis on Wednesday, April 11.
The 2018 HeartShare Spring Gala will bring together corporate sponsors, partners, Board Members, philanthropic supporters, and members of the HeartShare community to
celebrate its programs and honor individuals who are committed to helping children and adults with developmental disabilities gain independence and achieve success throughout their lives.
John Lee Cronin and Mark X. Cronin, Co-Founders of John's Crazy Socks, will be honored with The Monsignor Thomas G. Hagerty Humanitarian Award. John, who is 21 years old and has
Down Syndrome, runs the business with his father. As disability advocates, the Cronins often visit the Capitol to educate elected officials on the critical importance of inclusive businesses like
theirs.
Ila Eckhoff, Managing Director at BlackRock, will receive the Dr. Catherine White Achievement Award. Eckhoff lives with cerebral palsy and demonstrates HeartShare's commitment to human potential. During her over 30 years in financial services, Ila has become an advocate for herself and others. She sits on the Board of the Cerebral Palsy Foundation.
Arleen Baez, Managing Director of Alpine Woods Capital and HeartShare Board Member, will receive The HeartShare Visionary Award. Arleen was first asked to lead a global diversity and inclusion initiative while at Credit Suisse and continues to bring this experience to her workplace through inclusive hiring practices.
Lori Stokes, Co-Anchor of Good Day New York, will receive The Linda Dano Heart Award, named for former Board Member and longtime champion of HeartShare. Stokes is being recognized for her civic service. As a positive role model in the community, she carries on the public service legacy of her father Louis Stokes, who was Ohio's first black Congressman.
"Our honorees have demonstrated leadership in shaping positive perceptions and opportunities for people with disabilities," said Meredith Beck, HeartShare Vice President of Development. "The individuals we support acquire skills at HeartShare, but can only put them into practice with the shared vision of inclusive leaders and employers like our honorees."
The "Celebrating Abilities, Building Futures" theme also alludes to HeartShare's inaugural Ability and Inclusion Summit in November 2018 that will help corporate partners more readily
access a qualified pipeline of candidates with disabilities.
Long-time Board Member and host of Q104.3's Rock & Roll Morning Show, Jim Kerr will return as the Gala's emcee. Distinguished guests will include actors Danny Aiello, Barbara Feldon and Abigail Hawk, Shelli Sonstein of Q104.3, as well as Board Member Rosanna Scotto and Ines Rosales of Fox 5. Blue Bloods actress Abigail Hawk was a 2016 recipient of The Linda Dano Award.
The Gala also will feature a live auction, which will raise funds helping HeartShare residences participate in outings and excursions. "We all deserve a basic human right to a home, education and work. We also have a right to rest and to enjoy life. That's what we are helping our program participants do. Many have never been outside of New York City in their lives," explained President and CEO Bill Guarinello. "The live auction is thrilling because it allows guests to see the very tangible impact their bid has on a person's life."
Highlights from the silent auction include "Producer for a Day" on the Todd and Jayde Morning Show at 95.5 FM, Eli Manning signed football and sports memorabilia, as well as tickets to the 2018 Jingle Ball and The Late Show with Stephen Colbert.
The Spring Gala is made possible by generous sponsors, including HeartShare Visionary Sponsor Alpine Woods Capital Investors and HeartShare Partners Robert and Maureen Golden. HeartShare Leaders include HSBC, Lamb Insurance Services, Loeb and Troper, LLP, Wingate, Kearney and Cullen, LLP, as well as Arleen Baez, Joseph R. Benfante, Esq., and Paul J. and Julia Torre.
To join us or for more information, visit http://www.heartsharespringgala.com/.