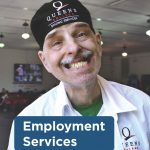 HeartShare's Employment Services has developed a publication to inform people with intellectual and developmental disabilities how to prepare for a job of their choice. This service takes the shape of a three-step employment process, which is detailed along with a section of Frequently Asked Questions, in the booklet.
When someone wants to work, we begin to pave their Pathway to Employment. The aspiring employee works 1:1 with a Vocational Specialist to determine what kind of job would be the best fit. This Discovery process consists of interviews with the HeartShare program participant and his/her family, as well as friends or advocates. This stage also includes visits to about three different job sites to engage with existing employees and get some hands-on experience.
Once enough information is gathered, our Community Pre-Vocational Services sets up a work try-out, where the aspiring employee is given a chance to try out the job as a volunteer for a period of 3 months. At the beginning of each work try-out, a written agreement is negotiated. The employer details the tasks and responsibilities of the employee, the expected work schedule and the employer's tentative date to hire the employee within the volunteer period. If it happens that one job isn't a great fit, the Vocational Specialist will work to find other opportunities of employment better suited for the HeartShare program participant. Through all of the work try-outs, the aspiring employee is supported by a 1:1 job coach to answer questions and assist in any way.
If all goes well, the aspiring employee is aspiring no more. He/she receives a formal letter of hire and officially gets put on payroll! Once the hire is finalized and the letter is attained, it is recommend to enroll in Supported Employment, which will allow HeartShare to coach the new employee for as long as necessary.
Pick up one of our Employment Services handbooks to learn more. For further questions, contact joshua.skolnick@heartshare.org.