Over 300 runners dashed to the finish line in the Harbor Fitness Race for Autism in Bay Ridge, Brooklyn. The race course started in front of the Harbor Fitness gym on 4th Avenue and 92nd Street, ran through the scenic Fort Hamilton Army base and finished back at the gym.
It was a very close race with Garland Tiger-Days, age 43, in the lead until the 3-mile mark. Jason Brown, age 37, overtook Tiger-Days, making it first to the finish line. Tiger-Days was a very close second. Brian Nersten, age 22, came in as third overall winner.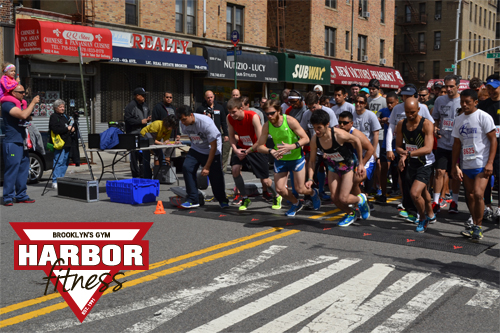 Some top runners have been supporters of the event for many years. "When I first found out that this race benefits the HeartShare schools, I knew I had to run. Now, I run every year," remarked Bassel Ahmad, age 20, who was the 4th place overall winner. Women excelled in the race as well with Andrea Tocci, age 22, Naomi Siegel, age 27, and Johanna Wilson, age 29, placing overall as 14, 22 and 23, respectively.
"HeartShare is celebrating 100 years and we're grateful for the support of our community, including Harbor Fitness," noted William Guarinello, President and CEO of HeartShare. NYS Senator Marty Golden and Councilman Vincent Gentile also welcomed race participants. Caitlin Herbert sang a moving rendition of the national anthem.
Various local businesses, including Uno's and Starbucks, donated food and beverages to the event. "This is our third year donating to the Race for Autism. Our staff and their family members volunteered," stated Liz Fagundo, Manager at the Starbucks on 3rd Avenue and 92nd Street in Bay Ridge. "This event keeps growing. We have more runners than last year and so many businesses have really stepped up," said Jodi Heywood, Harbor Fitness Group Fitness Manager. "Since we started this race, the fight for autism has become more and more prevalent," she continued.
The event started with a pee wee run, in which the children enjoyed a short block-long course on 4th Avenue between 92nd and 93rd Street. Ms. Cosmopolitan 2014 Christina Moore awarded all pee wee participants with prize ribbons. The children were also entertained by a magic act, bounce house and face painting. While some race participants enjoyed the food after the sprint, others continued their workout. Harbor Fitness instructors led a Zumba class to several pop anthems. Raffles included gift certificate prizes to restaurants and salons.