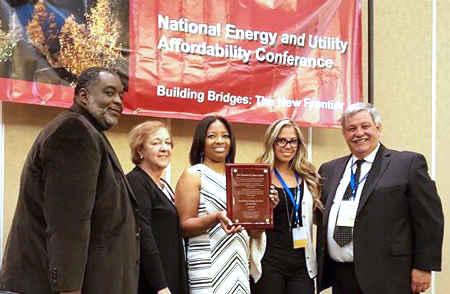 HeartShare received the 2016 Victorine Q. Adams Excellence Award for its role in creating the largest network among utility companies, elected officials and community organizations nationally. The award is from the National Energy and Utility Affordability Coalition (NEUAC), an awareness-raising coalition for low-income energy consumers. As a recipient of this award, HeartShare also will sit on the NEUAC Board.
Under the leadership of Joseph Guarinello, HeartShare Vice President of Energy Assistance and Community Development, the agency has prioritized the education of elected officials on low income issues and in building productive relationships within communities. HeartShare's efforts include annual trips to the Capitol, where the team advocates for federal funding known as Low Income Housing Energy Assistance Program or LIHEAP. Through those efforts, HeartShare currently reaches over 23,000 people in 60 of the 62 New York State counties.
HeartShare has strived to advocate beyond energy issues alone. "It's important to consider energy costs in conjunction with food security, rental assistance, telephone access, and counseling services," Guarinello explained. In partnership with the New York State Public Service Commission and elected officials, HeartShare hosts forums for vulnerable populations, like senior citizens, to discuss how to access such resources.
To learn more about how to donate to our Energy Assistance Programs, contact Tanya.Brothers@heartshare.org.