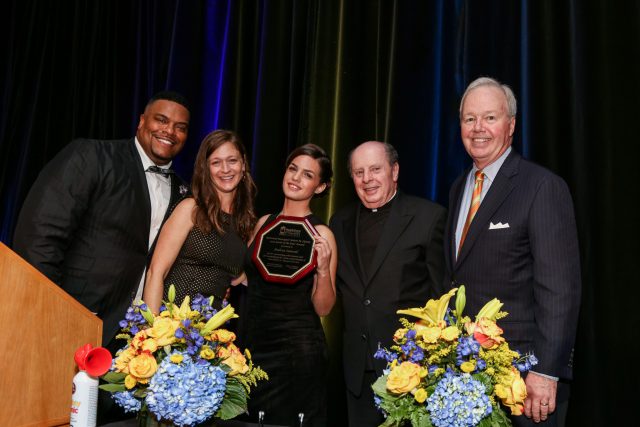 HeartShare St. Vincent's Services (HSVS) hosted its 2015 Annual Dinner at the New York Marriott at the Brooklyn Bridge on Thursday, November 19. The event raised over $300,000 for New Yorkers overcoming challenges of family crises, addiction, mental illness and poverty.
The dinner honored The Serenbetz Family Foundation and 2015 "Youth of the Year" Andrea S. The Serenbetz Family Foundation has been a champion of children's education and advancement through its 18 years of charity grants and legacy scholarships, including its ardent support over the past 9 years of the HSVS American Dream Program, which benefits young men and women like Andrea to reach their full potential, despite all the challenges that they have faced in their lives.
Although Andrea (Dea) lived in several states and moved through different schools, she overcame the obstacles of a childhood in foster care. "I want kids entering foster care to have an understanding of their rights within the system. We are strong," said the Skidmore College freshman who hopes to major in Business and International Affairs.
"Thank you to the Serenbetz Family and Andrea S. for personifying the core principles at the heart of HSVS – one through tremendous financial support and the other for taking positive advantages of the opportunities made possible by such support," noted HSVS Chairman of the Board Ken Nolan.