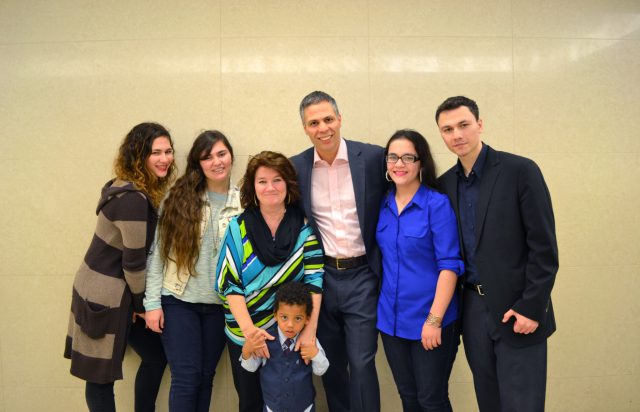 HeartShare St. Vincent's Services (HSVS) connected two year old David to a loving foster and now, adoptive family residing in Bedford-Stuyvesant, Brooklyn. The HeartShare affiliate placed 981 children in loving, stable homes this past year.
"David is our greatest joy and a blessing to our family," said Edwin and Elizabeth, who started fostering him at four months. With two loving parents and four siblings, Serenity, Grace, Lydia, and Edwin, Jr., playing their role in caring for two year old David, the young boy is experiencing a limitless future that ordinarily wouldn't have been available to him. Elizabeth and Edwin, who lost their home in Superstorm Sandy, are thrilled to adopt David and possibly keep their home open to other foster children. This November (National Adoption Month), the family will finalize David's adoption.
HSVS places children and youth in pre-adoptive homes, like Edwin and Elizabeth's home, so that children experience stability and love in their formative years. David was born chemically dependent and premature—he could "fit in the palm of a hand." From the time he was four months old, his family was able to nurture David. He physically grew, his motor coordination improved, his cognitive understanding became clearer and he exceeded developmental milestones by picking up sign language and a bit of Spanish from his siblings. Edwin and Elizabeth have made a strong commitment to keep David connected to his birth mother. "If we don't keep in touch with her, nobody wins," Edwin explained. "We want David to know and have a good relationship with his mother."
HSVS Foster Care and Adoption Services strengthens families facing long-term challenges or in times of crisis. HSVS partners with parents to provide the tools and skills necessary to build loving, happy family foundations for children in foster care. Foster children without a forever family often face low graduation rates, homelessness, incarceration, unemployment, early parenthood and long-term poverty.
To learn how to become a foster parent, reach an HSVS recruiter at 718-422-2405.