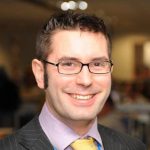 HeartShare welcomes its newest board member Johnny Johnston. Johnny serves as the Senior Vice President, Gas Business Enablement at National Grid. Johnny has built a substantial career at the company. A selection of his roles in New York and London have included Head of Sustainable Gas, Executive Advisor to the CEO and Vice President of Customer Meter Services.
Giving back to others, especially those with developmental disabilities, is not unfamiliar to Johnny. He has served as a ski instructor for Special Olympics GB. For nearly two years, Johnny has led the Finance Committee of the St. Francis Community Church.
Johnny earned both his Master's in Engineering Science and Business Administration.
Again, welcome to our Board of Directors!
Learn more about our agency's leadership here.