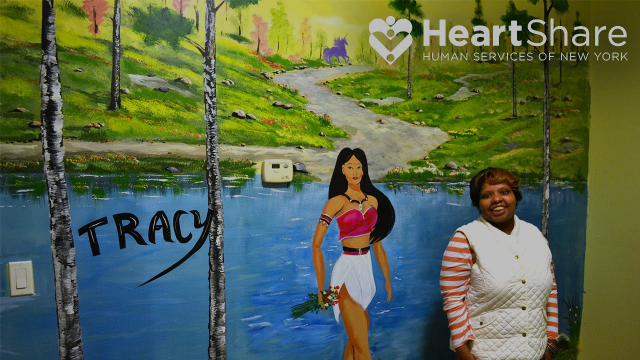 Personalized murals are just one of the many ways that the men and women living at HeartShare's DeSola Residence in Midwood, Brooklyn feel loved and at home.
HeartShare's DeSola Residence for men and women with disabilities has been brightened with eight murals. Artist Larry J. Walker painted murals that reflected each person's personality and interests.
After thinking intensely about what she could do for them, HeartShare Senior Residence Coordinator Margo Gordon came upon the mural idea. "From clothing to electronics, there's an endless possibility of items to buy. The mural is something different. It acknowledges their unique personalities," explained Gordon. "This is their home and the mural will be theirs forever." The individuals were always involved in customizing their rooms, but Gordon felt that the mural would be even more personal.
Gordon, who was the Manager of DeSola Residence when it first opened 15 years ago, has known many of the residents since they've come into care. Gordon worked with the individuals to create a blueprint for each painting. Anthony loves music and Martin likes puzzles, both of which are illustrated in their rooms. Auria, a coffee enthusiast, has a coffee mug with her name on it. Shelton enjoys Motown, so has a scene of a singer performing on stage, surrounded by classic Soul records. Jackie and Vernon, who enjoy the calming effects of nature, have outdoor scenes on their bedroom walls of a beach and a waterfall. Gregory enjoys sketching double-breasted suits, as well as classic films from the Golden Age of Hollywood. The artist recreated one of Gregory's own drawings set against a backdrop of the iconic Hollywood hills sign. Tracy has an enchanted forest inhabited by Pocahontas and a unicorn to represent her whimsical, playful personality.
Larry Walker, full-time artist, has exhibited works nationally and sold paintings to well-known customers, including the Ford and Clinton families. Walker also is familiar with using his skills to give back to the community, creating custom murals for schools. He was deeply moved by how HeartShare's DeSola residents reacted to the murals, "Their reaction truly touched my heart. I am so glad that they'll not only able to come home, but to a space that's especially for them."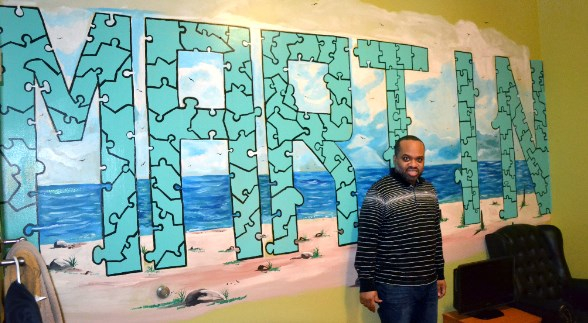 "The mural is something different. It acknowledges their unique personalities," explained HeartShare Residence Coordinator Margo Gordon. "When he first got here, Martin was very withdrawn, but we noticed that he liked word puzzles. That's what created a spark in him," Gordon recalled. "So, we got all kinds of puzzles, big ones and small ones. Matching games too!"