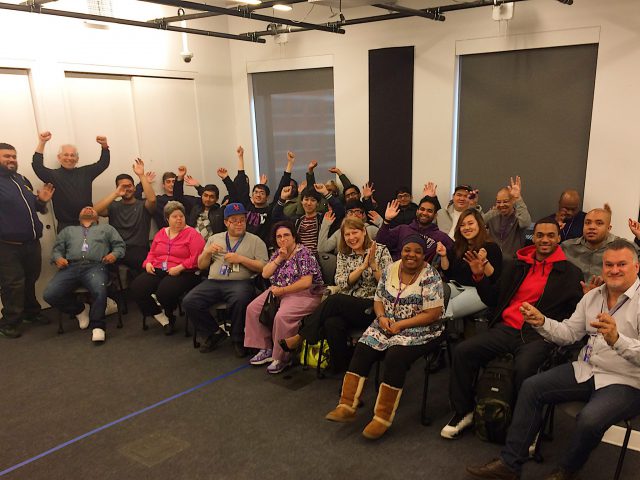 This past semester, HeartShare's Brooklyn Day Hab Program teamed up with NYU students once more. Through Allen Goldstein's Disability Studies course, the students created autobiographical films as their semester project. The videos premiered on Wednesday, April 26 at the HeartShare Digital Video Showcase at NYU Tandon.
The room was filled with laughter and pride as each team got up to present their very own feature presentation. Each team had been given the assignment of writing, directing, filming, editing and starring in their own five-minute film. The NYU students enrolled in Disability Studies courses helped with the production of the film, while the HeartShare program participants focused on the writing and acting. From Ghostbusters parodies and instructional videos about how to "partay" to simply, a day in the life of a beloved HeartShare program participant, students' creativity, collaboration and passion shone through.
Oswaldo Cardona, a HeartShare Direct Support Professional as well as the teaching assistant to Goldstein, comments that through this academic endeavor, "[HeartShare participants] expand their horizons; they grow as individuals. And other aspects of their lives open up." Cardona continues, "I am with them everyday and, I see a totally different part of them in this project."
A big thank you to the NYU students involved with the video production process and, to Allen B. Goldstein, founder and instructor of NYU Disability Studies.