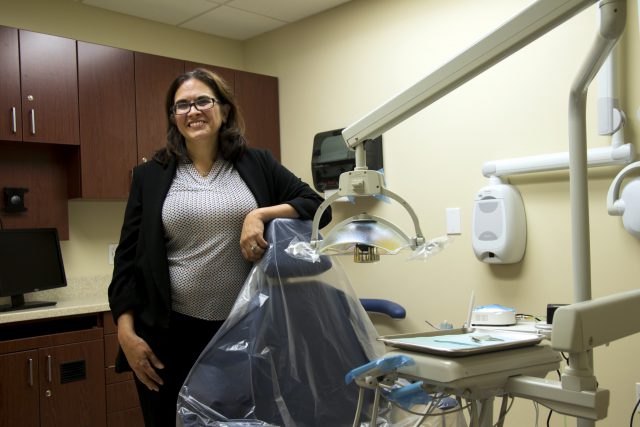 In 2016, HeartShare Wellness experienced several changes. Wellness first opened in 2000 as a medical clinic for people with intellectual and developmental disabilities. Metro Community Health Centers now operates that medical clinic and new dental facilities at 177 Livingston Street in downtown Brooklyn, while HeartShare Wellness continues to run its Article 16 clinic and Health Home program.
Together, HeartShare Wellness and Metro Community Health collaborate to treat underserved New Yorkers, which wouldn't be possible without people like Dr. Rita Bilello, D.D.S.
So, tell me how this all started!
RB: Well, the first conversation about opening the medical clinic started in 2012. My mother is a dental hygienist at City Tech's dental clinic. She was engaging in outreach to local community organizations, including HeartShare's Day Habilitation Programs. From there, my mother introduced me to Joyce Levin, HeartShare's Vice President of Developmental Disabilities Services and Jude Alexandre, who was managing the medical clinic at the time.
Where did you start your professional career?
RB: I worked in a private practice in Long Island since I was 13 years old! It was across the street from my house and my mother worked there at the time. I studied Philosophy at Colgate University. I now realize how ironic Colgate is considering the dental career I would later pursue. I earned my degree in dentistry from New York University and I've been practicing since 1999.
How did you become interested in serving people with disabilities?
RB: There was a special needs clinic at North Shore University Hospital on Long Island, where I completed my residency. In my private practice, though, I quickly realized how medical professionals are not prepared to treat people with disabilities. My own patients inspired me to act. I'll never forget Vito, who was about 40 years old at the time. He had MS and his health was rapidly declining. Vito had this horrible toothache and no one was willing to treat him. He not only deserves the same care as everybody else, but people with disabilities also require customized, coordinated care. We hope to continue collaborating with New York medical schools to offer residency rotations here, which prepares students for treating this population.
You were willing to take on the challenge, but how did you encourage your peers to jump in?
RB: While I treated my patients with special needs, I always asked my colleagues for a helping hand. The only way to conquer personal fear is to jump right in.
What does it take to treat patients with developmental disabilities?
RB: The equipment has to be sensitive to the condition of the patient. If the person uses a wheelchair, then we have to be prepared with a panoramic machine for X-rays. If the person has a respiratory issue, then we can't just sit the person back for a dental cleaning. We have to persevere in communicating in order to serve our patients. And sometimes, we just have to evoke creativity to get the outcome we want. If someone has motor issues and has difficulties grasping a toothbrush, for example, then we need to put that toothbrush in a tennis ball to make it easier to grasp. You have to think outside the box.
What do all these structural changes mean for the services provided?
HeartShare Wellness runs the Article 16 clinic, which provides therapeutic, counseling and evaluation services to people with special needs. Wellness also operates Health Home case management for people with more than one chronic condition. Metro Community Health governs the Article 28 or medical clinic for people with disabilities, as well as this new dental clinic. All of the clinical services are still housed at 177 Livingston Street.
Who are your primary patients now?
RB: The Metro clinics are now FQHC or Federally Qualified Health Centers, which means that we can serve anyone in the community, even Metro and HeartShare employees! Our focus will always be on people with special needs though. FQHC also require a sliding scale, which means no one can be turned away. This is especially crucial for Metro clinics located in incredibly impoverished areas of the city, like in the Bronx.
What is the benefit of having all of these services housed under the same roof at 177 Livingston?
RB: There are so many considerations when treating our patients with developmental disabilities. We may have to avoid general anesthesia or keep their inflammation down at all costs. In circumstances of co-morbidity, it's great to go right down the hall and consult our medical director Dr. Siasoco. Treating people with disabilities requires active communication among general practitioners and specialists. That's the only way to offer them the quality care that they deserve and that they're typically denied in the wider medical community.
The dental clinic at 177 Livingston Street is open Mondays 8:30 a.m.-4:30 p.m., Wednesdays, 11 a.m.-7 p.m. and Thursdays, 9 a.m.-3 p.m. To schedule a dental appointment, call (718) 855-7707. Services include: