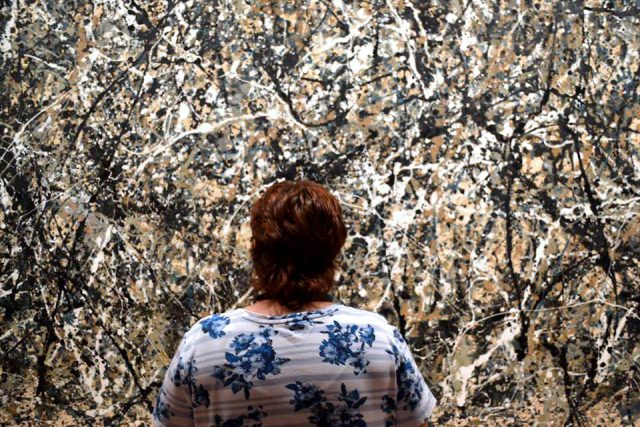 "You can tell they're artists by how they engage with the work."
Rachel Lindsay, MoMA Educator
Our artists with special needs have had several opportunities to engage with art. As a part of the ArtShare for HeartShare program, our individuals have created multimedia artworks, such as canvas paintings, collages and masks, which were displayed in an annual exhibition at New Century Artists Gallery in Chelsea. Actress Linda Dano and HeartShare Board Member Rosanna Scotto of Fox 5 News have been among the supporters of this annual event. Following the closure of the New Century Gallery, ArtShare continued to be resilient by adapting to this loss of valuable space. With the support the Brooklyn Arts Council, the Brooklyn Public Library, NYU Tandon School of Engineering, and Forest City Ratner, our individuals alternatively were able to display artwork throughout the Brooklyn community. These pop-up lobby exhibits caught the eye of pedestrians throughout downtown Brooklyn, resulting in greater awareness of the ArtShare program and the sale of pieces, which fund supplies for our artists. HeartShare also had the opportunity to transition its 7th Annual Opening Reception from New Century to St. Francis College, where pieces from children and adults with special needs were on view last summer. This November, HeartShare will host its ArtShare Opening Reception at Central Booking in the Lower East Side.
"Our individuals are slowly, but surely being recognized in the arts community."
Barbara Cuthel, ArtShare Founder and Co-Curator
In the ArtShare off-season, our individuals continue to participate in the arts community. HeartShare's Brooklyn Day Hab Program and Brooklyn PACT Programs recently took a Museum of Modern Art tour, which was customized to engage adults with special needs. During their visit, they explored Paul Cezanne's The Bather (1885), Henri Rousseau's The Sleeping Gypsy (1897) and Jackson Pollock's One: Number 31, 1950 (1950). The discussion centered on the contextual history and composition of the works. Following the tour, participants created their own sketches, inspired by the art viewed that day. "You can tell that they're artists by how they engage with the work," noted Rachel Lindsay, who led the tour. Lindsay visited the HeartShare day programs prior to the tour to discuss some modern and post-modern works. Lindsay has prior experience working with adults with special needs. "It was generous of the MoMA team to invite us for this free tour, but also customize the learning experience for our individuals," said Davina Hamilton, a HeartShare Direct Support Professional. "Our growing partnerships are showing me that our individuals are slowly, but surely being recognized in the arts community," noted Barbara Cuthel, who is the founder and co-curator of the ArtShare program.
To become a ArtShare program partner, contact WCuthel@aol.com.