Dominion Transmission Teams Up with Utilities and HeartShare to Help Families Stay Warm This Winter
Dominion Transmission is presenting two $10,000 donation checks to HeartShare Human Services of New York for its Energy Assistance Programs that provide utility grants to low-income New York households.
HeartShare works with upstate New York customers to apply for either the Care & Share Heating Fund or the Project SHARE Heating Fund, both of which are often used as a last resort for shut-offs during dangerously low winter temperatures. The Care & Share Heating Fund serves eligible customers of National Grid and the Project SHARE Heating Fund serves eligible customers of New York State Electric & Gas Corporation (NYSEG) and Rochester Gas and Electric Corporation (RG&E). The National Grid and NYSEG/RG&E funds are each receiving a $10,000 donation from Dominion Transmission at check presentations in Glens Falls and Binghamton.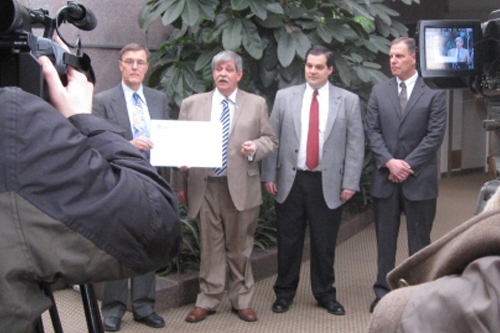 "We are incredibly grateful for those donations from Dominion Transmission. They will allow HeartShare to reach more upstate New Yorkers this winter. Our Energy Assistance Programs, especially Care & Share and Project SHARE, are available to individuals and families who often have nowhere else to turn. HeartShare, celebrating its centennial this year, continues its long-standing mission to enhance the lives of children, adults and families in need," noted Joseph Guarinello, Vice President of Energy Programs at HeartShare.
Dominion Transmission, primarily a provider of gas transportation and storage services, has been a generous supporter of the two funds for the past decade. "We are proud to continue our support for these important programs that will help reduce heating expenses for upstate New Yorkers in need," said Kevin Zink, Director of Dominion Transmission, Northeastern Area. Since 2004, Dominion Transmission has donated $62,500 to the Project SHARE Heating Fund and $27,500 to the Care & Share Heating Fund, including the most recent $20,000 donation. Dominion Transmission's parent company, Dominion, has its own energy assistance program, which has helped more than a half-million families in financial crisis since 1982.
"We would like to extend our appreciation to Dominion Transmission for ten years of support and for stepping up to participate in Care & Share. As members of the upstate New York community, we are no strangers to cold, snowy winters, but this has been a particularly challenging time," said William Flaherty, National Grid Director of Customer and Community Management. Care & Share, which has provided aid to 30,000 upstate New York households since 1981, awards up to $200 to eligible customers.
NYSEG and RG&E's Project SHARE Heating Fund serves 44 upstate New York counties with a maximum award of $350 for energy emergencies. "We thank Dominion for its generous contribution. We encourage our customers and employees to join Dominion and our companies in supporting the Heating Fund," said Mark S. Lynch, President and CEO of NYSEG and RG&E. NYSEG founded Project SHARE in 1982 and RG&E established the Red Cross/RG&E Heating Fund in 1984. They were combined last year to create the Project SHARE Heating Fund.
HeartShare administers its Energy Assistance Programs, including Care & Share and Project SHARE, without charge to needy households. All funds go directly to low-income New York individuals and families, who are eligible based on household size and income. Under the federal Home Energy Assistance Program (HEAP) guidelines, a family of four, for example, must not exceed a maximum gross monthly income of $4,182. "The name of our organization, HeartShare, is a daily reminder of the heartfelt work that we do, touching almost 29,000 lives each year. It is fitting that today, Valentine's Day, utilities and an energy producer in the region have teamed up to show continued support and care for their customers during this long and difficult winter," noted Mr. Guarinello. For more about HeartShare's Energy Assistance Programs, recently featured on ABC 7's Tiempo, visit heartshare.org.