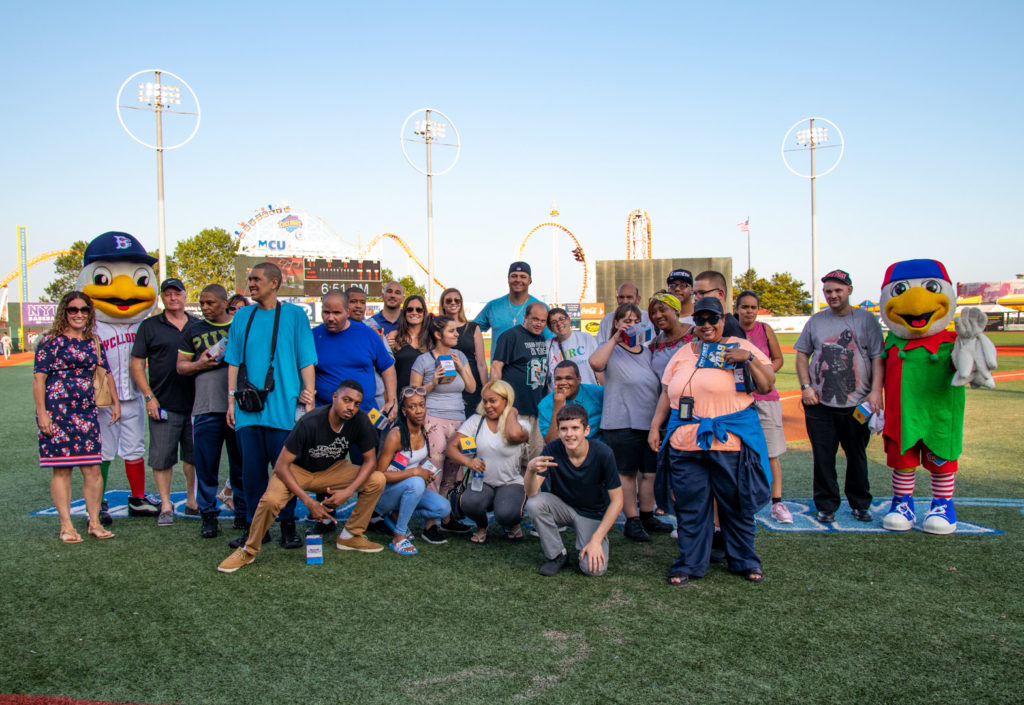 We had a blue Christmas—in July!—as HeartShare staffers and individuals from more than a dozen HeartShare residences donned signature blue Santa hats for the Brooklyn Cyclones annual Christmas in July celebration at Coney Island's MCU Park last week.
There were twinkling lights, tinsel, a Christmas tree, a free parachute jump ornament, carols blasting over the sound system, cheerleaders dressed as elves dancing to Mariah Carey's "All I Want for Christmas Is You" and the big man himself, Santa, who was more than happy to pose for pictures with the HeartShare crew.
And it was quite a crew! Joining 200-some HeartShare residents and Direct Support Professionals (DSPs) were board member Craig Eaton and his family, along with a contingent from his namesake Eaton Residence in Brooklyn's Bath Beach who were invited to meet the Cyclones and mascots Sandy the Seagull and Pee Wee on the field before the game.
One lucky Eaton resident—Danny, who also attends the HeartShare School—even got to take the mound and throw out the first pitch to Cyclones' No. 19 Corey Gaconi.
Amid all the festivities, there was a baseball game to be played. As the sun set and the lights from Luna Park began to glow behind the scoreboard, the Cyclones beat the Tri-City Valleycats from Troy, NY, 9 to 4, the perfect Christmas present for friends and fans.
Check out some highlights below and click here to see the full gallery on Facebook.