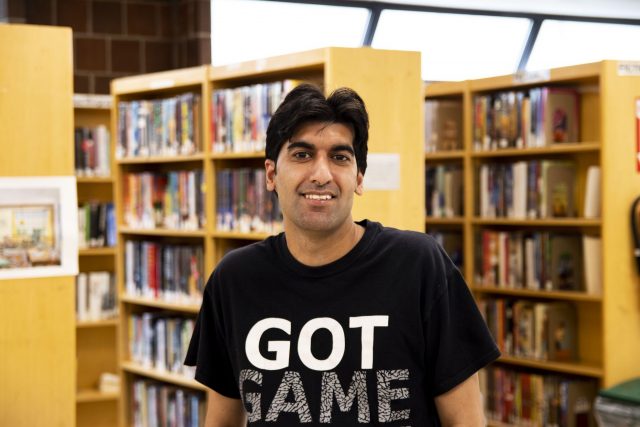 Ahmad Murtaza at The Queens Library in Forest Hills. Participants in HeartShare's Day Services program have been volunteering there.
"I was very excited when I heard that we were going to go help out at the library," said Ahmad Murtaza, a participant in HeartShare's Avenue L Day Habilitation program. At volunteer sites, many HeartShare participants further realize their interests and build skills. "I'm very good at organizing and I really like to work with others…this is a good experience," said Ahmad.
The Queens Library in Forest Hills has been receiving some assistance from participants at HeartShare's Day Services program. "They've been helpful. Whenever they come here they're focused and productive," shared Fran Tobin, Community Library Manager at the Queens Library branch.
When program participants volunteer at the library, usually once a week for a couple hours, they mostly work on organizing books and shelves. "They were an especially big help when they pulled items for library requests," said Fran. In addition to organizing, participants also decorate the library with posters and other artwork. This pre-vocational volunteer opportunity helps participants gain experience and build confidence for future employment.
Are you an equal opportunity organization? If you'd like to hire individuals with intellectual and developmental disabilities for volunteer or paid opportunities, please contact Barbara.Falcone@heartshare.org