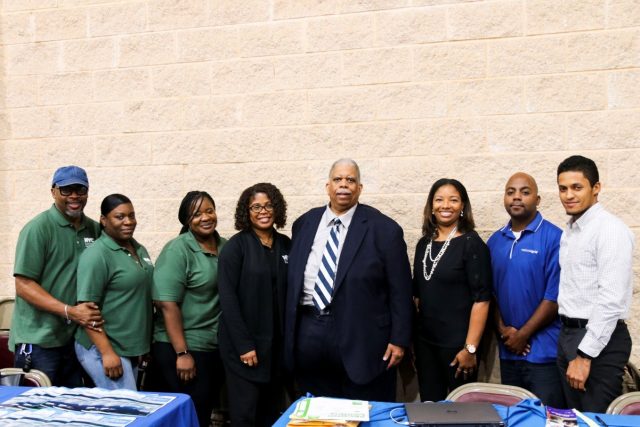 Together, HeartShare, Senator Leroy Comrie and partners team up to bring energy savings to New York. (Left to right) John Wilson, Kenyatta Cullum, Natasha Harper, Karen Ellis (all DEP), Senator Leroy Comrie, Tanya Jones (HeartShare), Vaughn Pratt (National Grid), and Ray Garcia (HEAP) at the Majority Baptist Church to assist the community with energy costs.
(St. Albans, Queens)—In celebration of Energy Savings Day on October 5th, HeartShare Human Services responded to the community's energy needs with NYS Senator Leroy Comrie and partners at Majority Baptist Church in St. Albans, Queens.
During the event, HeartShare's Energy Assistance Department alongside Sen. Comrie's team and partners from National Grid, the Department of Environmental Protection (DEP), Con Edison, and the Home Energy Assistance Program (HEAP) of the Human Resources Association offered personalized and direct assistance for walk-in clients.
Typically, energy assistance such as this is available only to lower-income residents, but any client who had questions or concerns regarding their energy costs was able to participate. No appointments were necessary.
"We are here for the general public to receive maximum help with their energy costs," said Tanya Jones, Director of Energy Assistance and Community Development at HeartShare Human Services. Payment agreements, boiler repairs and replacements, energy grants, and oil to gas conversions were just some of the resources available. "Anyone can come in to discuss their unique situation," Tanya added.
HeartShare and Senator Comrie have worked together for quite a while. "Sen. Comrie has been a long-time partner of HeartShare. He was the first to work with us to develop HeartShare's Neighborhood Heating Fund," shared Tanya.
"I've been working with HeartShare for at least 12 years. I'm glad to have been able to work with them to support our community… Whatever amount we can help the community save is a blessing," said Senator Comrie.
This was the seventh in a series of energy savings events so far this year for HeartShare and Senator Comrie. "We try to have events like this as often as possible. It's a convenience to the community. You don't have to pay tolls or wait on-hold over the phone. You can come right here and speak with a representative directly," said Senator Comrie.
To learn more about HeartShare's Energy Assistance Program and upcoming events, visit www.heartshare.org.