HeartShare Human Services was awarded a $5,000 grant from The Investors Foundation to support its ArtShare for HeartShare program.
"Thank you to the Investors Foundation for supporting ArtShare, which has not only become a substantial arts program, but has facilitated our artists' connection to the NYC community," said Linda Tempel, HeartShare Executive Director of Developmental Disabilities Programs.
The Investors Foundation assists organizations in New Jersey, New York City and Long Island that invigorate their local communities with civic-minded initiatives focused on the arts, education, health and human services, youth programs and more.
ArtShare for HeartShare is a multi-media presentation, featuring artwork created by children and adults with intellectual and developmental disabilities, including autism spectrum disorders, cerebral palsy and epilepsy. The artists participate in HeartShare's programs or live in one of HeartShare's residences.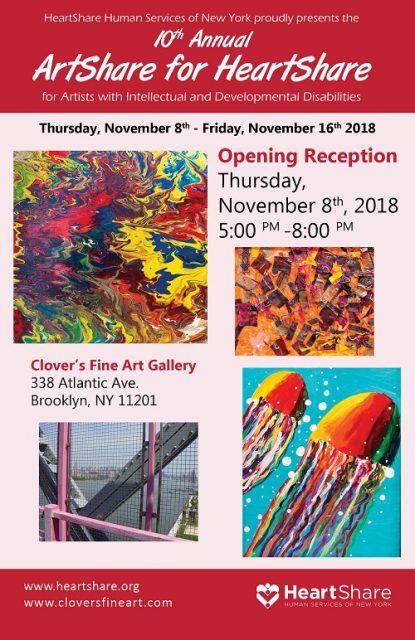 Over the past 10 years, over 200 HeartShare artists with disabilities have produced 750 pieces of art. The art is exhibited at an annual Opening Reception and various community locations, including the Brooklyn Public Library, Governor's Island, and NYU Tandon School of Engineering.
Since the program's inception, partnerships with The Museum of Modern Art, The Museum of Natural History, The Rubin Museum, The Dedalus Foundation and others have resulted in inclusive educational opportunities for HeartShare artists.
The ArtShare for HeartShare Opening Reception is on Thursday, November 8th from 5-8 p.m. at Clover's Fine Art Gallery at 338 Atlantic Avenue and will run through Friday, November 16 from 12-5 p.m. with the exception of Veteran's Day.
Exhibited works, including paintings, collages, jewelry and other multimedia pieces, are available for sale at the Opening Reception and at any point thereafter.