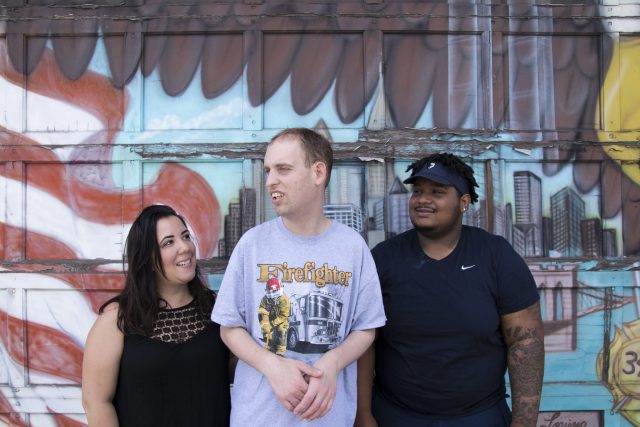 HeartShare staff take a walk with Justin, who loves firefighters and thanks to the program manager and DSPs, visits with a local fire company. He also enjoys the Rangers and horseback riding.
HeartShare participated in the #bFair2DirectCare rally at St. Francis College on Monday, December 4th.
Several members of HeartShare's Brooklyn Day Habilitation Program attended the rally. See Facebook album. One of the advocates at the event was Justin, who resides at HeartShare's Duran Residence in Midwood. In addition to the love and support of his family, Justin relies on compassionate care of Direct Support Professionals, who not only help him get through the day, but nurture his passions.
Several elected officials, including Assemblymen Joseph Lentol and Peter Abbate, as well as Senator Marty Golden spoke about securing additional allocations for dedicated and compassionate Direct Support Professionals. Representatives of Assemblymember Pamela Harris and Senator Pamela Harris attended to support the fight for a living wage.
#bFair2DirectCare is the call to action to remind state leaders that the nearly 100,000 direct support professionals (DSPs) who work for not-profit agencies like HeartShare are not earning what they deserve. These professionals, who are responsible for diverse tasks from helping people eat to administering medications, need and deserve a living wage. Almost all funding for these agencies comes from government, at rates set by the government.
To learn more, visit www.bfair2directcare.com.