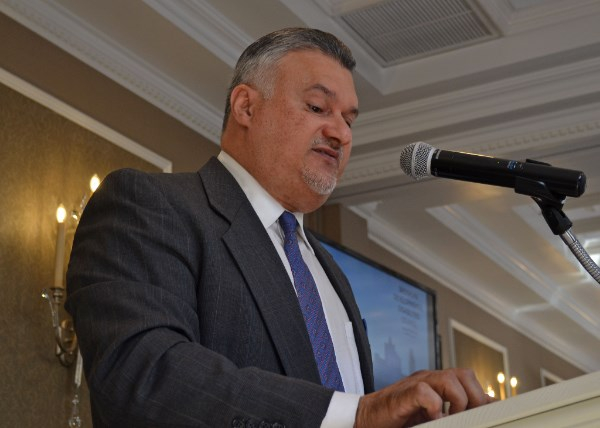 "We help people with intellectual and developmental disabilities realize their goals and dreams. Does that sound like minimum wage work to you?" asked HeartShare Direct Support Professional Ozzy Cardona at the Brooklyn Developmental Disabilities Council's Legislative Breakfast on Friday, March 18th at Garguilo's Restaurant.
(Brooklyn, NY)–HeartShare Human Services participated in the Brooklyn Developmental Disabilities Council Annual Legislative Breakfast on Friday, March 18, 2016 at Garguilo's Restaurant, expressing to elected officials in attendance the need for funding essential to enhancing quality of life for children and adults with intellectual and developmental disabilities (I/DD).
HeartShare and peer agencies, including Block Institute, Eden II, Guild for Exceptional Children, Human Care Services, Lifespire, NYSARC, United Cerebral Palsy (UCP)/NYC and YAI, highlighted budget items essential to the survival of services for people within the I/DD community.
"We need to offer a fair wage to frontline workers, including Direct Support Professionals (DSPs), who care for our individuals 24/7," said Joyce Levin, HeartShare Senior Vice President of Development and Support Services, as well as Vice Chair of the Brooklyn Developmental Disabilities Council (BDDC).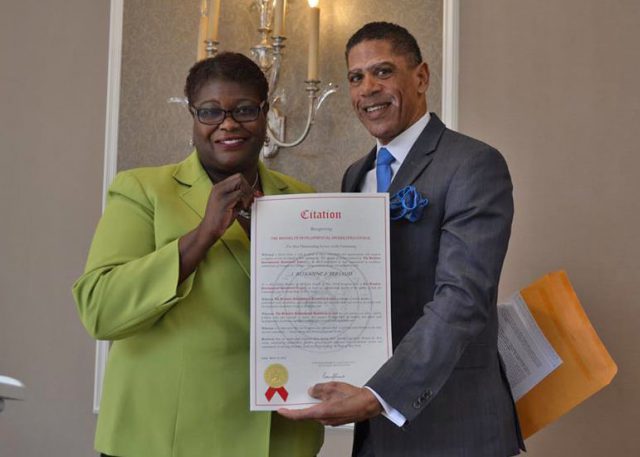 Senator Roxanne Persaud presented a citation recognizing the importance of developmental disabilities services to Brooklyn DDRO Chairperson Lorenzo Brown.
Direct Support Professional Ozzy Cardona, who works at HeartShare's Brooklyn PACT Day Habilitation Program for adults with autism, spoke of the rewards of his job, but also how hard it is to make ends meet. "My job at HeartShare means the world to me," shared Cardona. "There are some days that I might work 22 hour days, taking on a second job to subsidize my work as a DSP. Please allow us to help people with disabilities in our care achieve greater independence, self-discovery and self-worth," asked Cardona of the elected officials present at the breakfast.
"Thanks to people like Ozzy Cardona, we are able to gain some insight into the relationship between Direct Support Professionals and the people they care for. It's the continuity and consistency of that relationship that enhances quality of life for people with intellectual and developmental disabilities," noted Kerry Delaney, Acting Commissioner of New York State Office for People with Developmental Disabilities (OPWDD).
The event's over 350 guests also viewed a recent NY1 story featuring HeartShare on the minimum wage issue. "If there's a minimum wage increase and no funding to support that, programs will go out of business," said HeartShare Executive Director Linda Tempel to NY1's Political Reporter Zack Fink.
Funding also is crucial for expanding inclusive living and employment opportunities for adults with developmental disabilities. HeartShare continues to offer residential options in the community, including 41 supervised group homes and 48 independent living apartments throughout Brooklyn, Queens and Staten Island, while HeartShare's Employment Programs also prepare adults with disabilities for competitive jobs with respected employment partners, such as Applebee's and Modell's Sporting Goods. In partnership with New York Integrated Network, HeartShare also established Cleaning with Meaning, a green cleaning company that enables adults with disabilities to enter the workforce.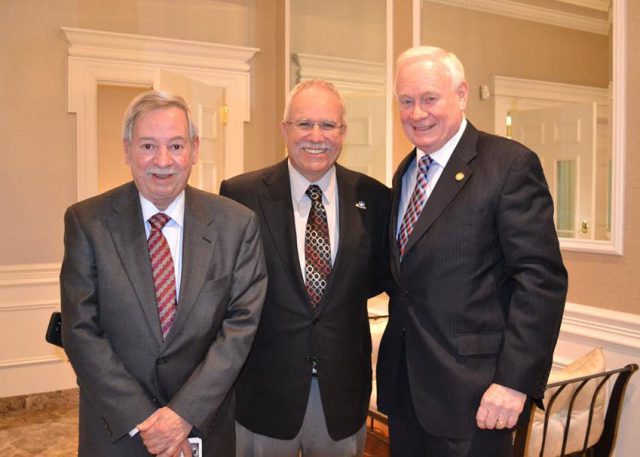 Assemblyman Peter Abbate (left) and Senator Marty Golden (right) joined leaders of New York's developmental disabilities agencies, like President and CEO William Guarinello (center) to discuss critical funding needed for children and adults with intellectual and developmental disabilities.
Additionally, before a two percent increase last year, special education pre-schools experienced a six year freeze. The freeze directly impacted the retention of quality HeartShare educators who evaluate and teach nearly 1,000 children with special needs, as well as UPK students annually. "I still keep in touch with children with special needs who attended when our first pre-school program opened in 1982. Those children have become successful, productive people. Despite the lack of dollars in recent years, it's clear that investment in early education works," HeartShare Vice President of Education Services Carol Verdi.
NYS Senators Marty Golden (R-C-IP-Brooklyn) and Roxanne Persaud (D-Brooklyn), as well as Assembly Members Peter Abbate, Jr. (D-Brooklyn), Jo Anne Simon (D-Brooklyn), Steven Cymbrowitz (D-Brooklyn) and Pamela Harris (D-Brooklyn) were in attendance at the breakfast. Sen. Golden Persaud and Simon presented Council Chairperson Lorenzo Brown with citations expressing their commitment to preserving such services.
Learn more about HeartShare's Developmental Disabilities Services at www.heartshare.org and the Brooklyn Developmental Disabilities Council at http://www.brooklynddcouncil.org/.