(Brooklyn, NY)–HeartShare Human Services of New York raised over $600,000 at its 2016 Spring Gala and Auction on Wednesday, March 23, 2016 at the New York Marriott Marquis. Over 1,100 guests attended the Gala, which is HeartShare's premiere fundraiser event.
HeartShare honored actress Abigail Hawk with its Linda Dano Heart Award. Hawk, who currently co-stars as Detective Abigail Baker on CBS' Blue Bloods, also has starred on television shows, such as Body of Proof, Law and Order: SVU and Are We There Yet? Abigail has been an avid supporter of HeartShare, which among its services, nurtures and empowers children and adults with special needs.
"I want to take this moment to reflect on the generosity of time, talent and selflessness to be a human being giving to those with special needs and elevating people in crisis. To me, this is New York. This is the world that HeartShare has helped create," Hawk said upon receiving her award. Hawk also has attended several HeartShare events, including past Galas and HeartShare's 100th Anniversary Celebration Block Party in 2014.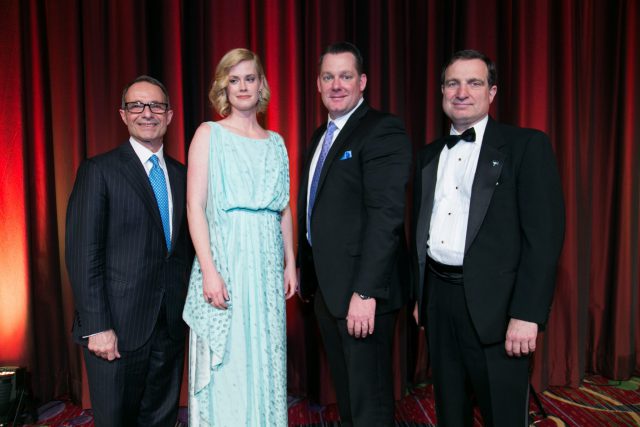 HeartShare also honored Richard C. Cea, Esq. of Wingate, Kearney & Cullen, LLP, Philip C. Kelly of El Caribe Country Club and Dominick A. Cama of investorsBank.  Recipient of the Monsignor Hagerty Humanitarian Award Richard J. Cea spoke of his first experiences at HeartShare while in law school and how going into the field with then social worker President and CEO Bill Guarinello opened his eyes to the value the agency had to children and families experiencing foster care. Executive Director of El Caribe Country Club and Recipient of the George A. Cincotta Community Service Award Phillip C. Kelly gave back to the community following September 11th and Superstorm Sandy through his involvement with the Ben Bay Kiwanis Club and expressed his continued desire to support charitable organizations like HeartShare through his catering business. Senior Executive Vice President and CEO of investorsBank and recipient of the HeartShare Genie Foundation Award Domenick A. Cama, discussed his bank's values of character, communication and community, and called upon guests to serve others. Jamie Lynn Macchia, Miss New York 2015, assisted in presenting the awards.
Board Member and anchor Rosanna Scotto, alongside her Fox News team, traffic reporter Ines Rosales and meteorologist Mike Woods, presented President and CEO Bill Guarinello with an award recognizing his 45 years of service to the agency. "This is really special for Rosanna Scotto and her team to be here to recognize me tonight. No matter how much of a celebrity she's become, she hasn't forgotten her roots," said Guarinello. Despite his valued expertise and leadership, Guarinello continues to credit HeartShare's 2,400 employees with the agency's success. "Our goal to offer quality services to New York children, adults and families would not be possible without our dedicated staff."
The Gala's celebrity guests included cast members from Netflix hit series, Orange is the New Black, including Barbara Rosenblat (Miss Rosa), Tamara Torres (Weeping Woman), Farrah Krenek (Farrah the Inn Keeper), Sean Ringgold and Gina Naomi Baez. Long-time supporters Emmy Award winning actress Linda Dano, Get Smart "Agent 99" actress Barbara Feldon, actor Danny Aiello, as well as the Soprano's Parisi Twins and adjunct professor Dr. Danny Grimaldi joined HeartShare for the evening.
The event premiered a video sharing how HeartShare positively impacts the lives of nearly 35,000 New York children, adults and families in need each year. At The HeartShare School for children 5-21 with autism, a teenager named Tallal learned how to speak for the first time in his life, an accomplishment that brings him closer to a more independent life. Watch the video.
The Gala also highlighted Devin, a young man with intellectual and developmental disabilities who has attained his dream job working at Modell's Sporting Goods. HeartShare's Employment Programs, alongside inclusive employment partners, offers skilled people, like Devin, a fair chance in the competitive workforce. Typically, up to 80 percent of people with any disability are excluded from the labor force.
Guests from the public service sector included the Hon. Ariel Belen of the Supreme Court, 2nd Department, Hon. Alex Calabrese, Acting Justice of the Red Hook Community Justice Center, Councilman Vincent Gentile and the Hon. Benita Miller, Executive Director of the Mayor's Children's Cabinet. Long-standing supporter and Board Member Jim Kerr served as Master of Ceremonies. Kerr has served on HeartShare's Board of Directors since 1987.
The annual fundraiser also featured an expansive silent auction, including items, such as tickets to Broadway shows, Carnegie Hall and Gotham Comedy Club, trips to Walt Disney World and the 2016 Toronto Food and Wine Festival, sports collectibles from the New York Giants, Yankees and Mets, as well as autographed items like guitars signed by The Rolling Stones, Guns N' Roses and Taylor Swift.
Learn more about HeartShare and its Family of Services at www.heartshare.org, which will be launched as a newly designed site in the coming weeks