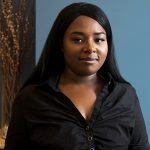 (New York, NY)— HeartShare St. Vincent's Services will host its Annual Benefit on Monday, October 17 at Tribeca 360 in Manhattan, which will highlight the agency's Youth of the Year.
Diamond H., a high school senior, is the recipient of the 2016 Monsignor Robert M. Harris Youth of the Year Award. Diamond first entered the foster care system as a young baby when her mother was deported back to Guyana. Fortunately, when she was four years old, she was adopted and grew up surrounded by a loving family.
Last year, however, her adoptive mother was hospitalized with a tumor and became very ill. Diamond and her sisters were again placed into foster care. Diamond was brought to an HSVS group home for girls on Staten Island.   Despite the setbacks in her life, Diamond never wavered. "When I got to the HSVS group home, I finally realized that the opinions of my peers did not matter at all," she said. "I cared about school. I wanted to learn something every day. When I brought my first report card back to the group home from school, Ms.Davis, our House Manager, said, 'This is good, but I know you can still do better.' And I did."
Diamond continued to push herself in school and proudly applied for the Youth of the Year Award, which she will be receiving Monday at the HSVS Annual Benefit. The Youth of the Year is a young man or woman who has excelled personally and academically despite their experiences in foster care. "We are so proud of the great strides Diamond has made despite the hardships she has faced," said Dawn Saffayeh, Executive Director of HeartShare St. Vincent's.
This year's honorees also include Andy Sokhu, Founder and CEO of Y2K Credit Solutions, recipient of the 2016 Fred and Nancy DeMatteis Award, as well as Melody Joanne Centeno, LMSW, recipient of the inaugural 2016 Rising Star Award. Centeno was a youth in care with the former St. Vincent's Services and has taken an active role in the HSVS Junior Board.
HeartShare St. Vincent's Services supports over 6,000 New York at-risk children, teens and families every year. For more information, visit www.hsvsnyc.org.