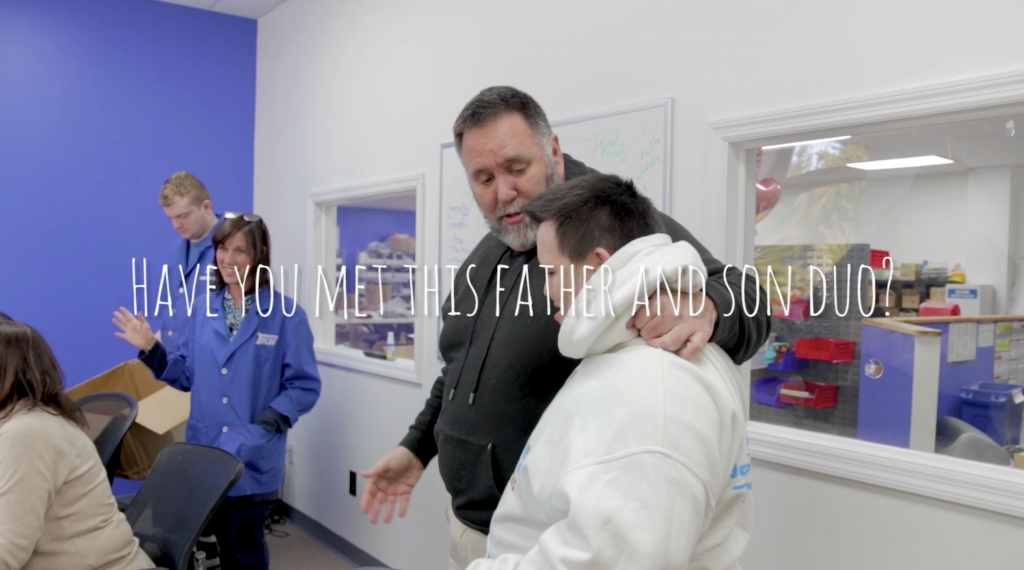 HeartShare Human Services will honor John Lee Cronin and Mark X. Cronin of John's Crazy Socks at its Spring Gala on Wednesday, April 11.
John's Crazy Socks is a father-son venture inspired by co-founder John Lee Cronin, a 21-year-old man full of life and aspirations who happens to have Down syndrome. Mark X. Cronin, the father in the father-son founding team, works behind the scenes while John is the face of the business.
The company offers over 1,200 socks, including the very first Down Syndrome Awareness sock, which John designed and remains a top seller. The company donates 5 percent of its earnings to the Special Olympics, which John participates in. "I do track and field, soccer, and snow shoeing," said John. "And he brought home a couple medals from the State games this year," added his father proudly. John and Mark also team up with other charities to design custom socks. The proceeds are donated to disability awareness organizations.
John often creates new ways to engage with customers—like Sock of the Month Club. Each hand-packed box comes with its own thank you note and candy. For local orders, John delivers the package himself. As the face of John's Crazy Socks, he is recognized often. Sometimes, he's even stopped for autographs. "I love my job," said John with a smile.
John and Mark's charming, larger-than-life personalities truly lend to their mission of "spreading happiness," but their success and HeartShare's recognition of the dynamic duo lies in their belief in different abilities.
People with various disabilities comprise almost half of the company's team. John and Mark have opened their doors to the community – from training interested candidates to offering school tours of their business. With developmental disabilities service options scarce in the area, John's Crazy Socks fills a void for pre-vocational and employment training.
"There are people I could think of on my team who wanted to work, but had no opportunity to do so," explained Mark. "I talk to their parents and working here has changed their child's life. With a job, they are up early, dressed and eager to get to work."
Mark Cronin made a critical point about the tough choices that his employees are forced to make. "My employees want to work full time, but they can't, otherwise they'll lose their benefits," said Mark of the Medicaid restrictions. John and Mark are often advocates for people with disabilities. This spring, they'll be making another trip to Capitol Hill with the National Down Syndrome Society to speak with legislators.
This person-first business, headquartered in Melville, NY, has been featured widely by BBC News, Newsday, ABC News, Business Insider, and Inside the Marketplace. The father-son team will be featured on PBS this Friday, March 9.
The HeartShare Spring Gala's theme is "Celebrating Abilities, Building Futures," which couldn't be better exemplified by John's Crazy Socks' inclusive business model. The event is on Wednesday, April 11, 2018 at the New York Marriott Marquis. To attend as a guest or corporate sponsor, please visit http://www.heartsharespringgala.com/.