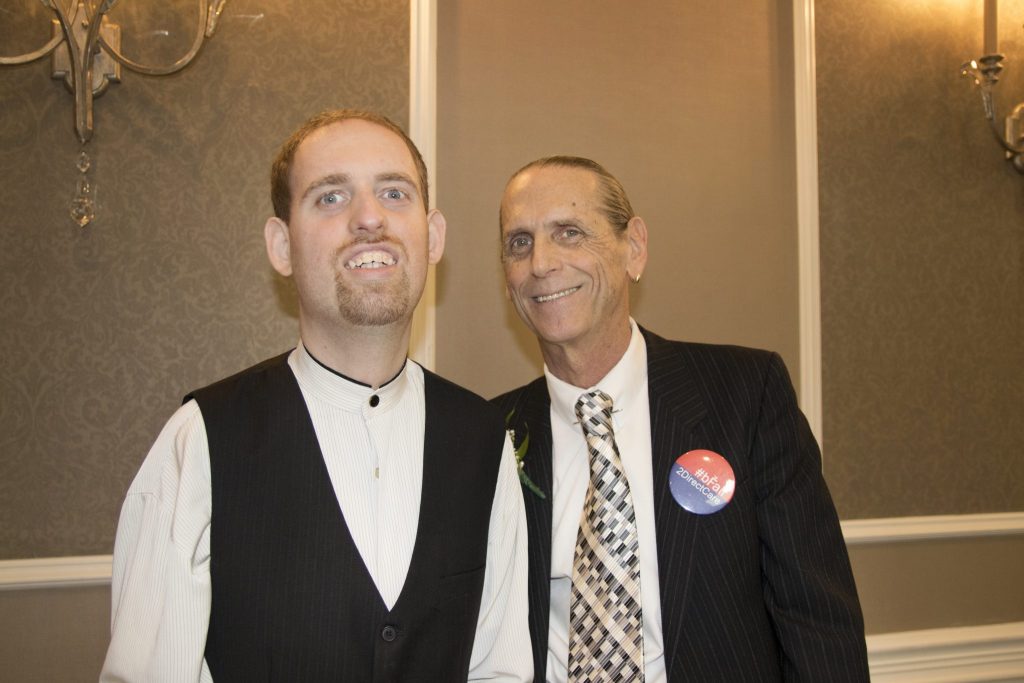 Justin, who lives in a HeartShare Residence, with his father and parent advocate Michael Bolton. "Direct Support Professionals are there when parents and other family members cannot be, but unfortunately, so many DSPs are unable to continue this work because they cannot support their own families on current wages," said Bolton at the Legislative Brunch.
Michael and Randy Bolton have dedicated their careers to the I/DD field. Now, they're parent advocates showing up where it counts. From rallies to legislative offices, Michael and Randy are making it clear that people with disabilities—and those who support them—need more.
Michael and his wife Randy are part of an advocacy group, NYC Family Advocacy Information Resource or NYC Fair, which is dedicated to creating a network of informed and empowered family members and friends to be effective advocates for the ID/DD community. The group is also reaching out to younger parents and caretakers of children with disabilities. "Education is the only government mandated services for our children and parents must advocate for all other services," explained Michael. "We want to make sure that younger parents have the tools and community to handle the next generation of advocacy."
The fight for a living wage in direct care is just one of those areas that Michael and his wife have been working on. "This is not a minimum wage job," said Michael Bolton, whose son Justin lives at HeartShare's Elvis Duran Residence in the Mill Basin section of Brooklyn. "Years ago, this field decided to change the title from 'direct care worker' to 'Direct Support Professional.' Our budgets don't treat them as professionals or with respect despite the overwhelming amount of training and years of service. It's not just a job, it's a career."
Michael is referring to the #bFair2DirectCare campaign, advocating for a living wage for Direct Support Professionals who care for people with developmental disabilities throughout New York State. This month, the group unveiled a 5,000 square foot digital billboard and convened a rally in Times Square asking Governor Cuomo for an additional $18.25 million in this year's budget for DSP salaries. The requested sum amounts to 0.01 percent of the state's $168 billion budget.
"It is so important to have quality people taking care of your loved ones," said Michael. "I am comfortable knowing that my son is living in a place with capable, experienced staff." Currently, Direct Support Professionals earn between $10 and $13 per hour, despite their critical work. Some 73 percent of DSPs are women while 53 percent are black or Hispanic.
Michael started part-time in direct care and has been in the field ever since. While pursuing his Master's degree in Recreation and Adapted Physical Education, he met his wife Randy. Michael spent his career in Respite/Recreation Services primarily at ADAPT Community Network, formerly UCP of NYC. Randy works for the DOE in vocational training for students ages 11-13, which is critical in their transition to the high school setting.
"Our legislators need to remember how much work DSPs are responsible for—medical appointments, dispensing medications, community outings, safety, feeding, and dressing. They are responsible for other people's lives," said Michael.
Michael spoke at the Brooklyn Developmental Disabilities Council's Legislative Brunch on March 9. "'Mama' Claudia is a DSP at Justin's Residence. We call her that because Claudia treats all the young men at the residence as if they were her own," Michael shared with the parents, community organizations and elected officials in attendance.
Learn how you can help DSPs earn a living wage here: http://www.bfair2directcare.com/.