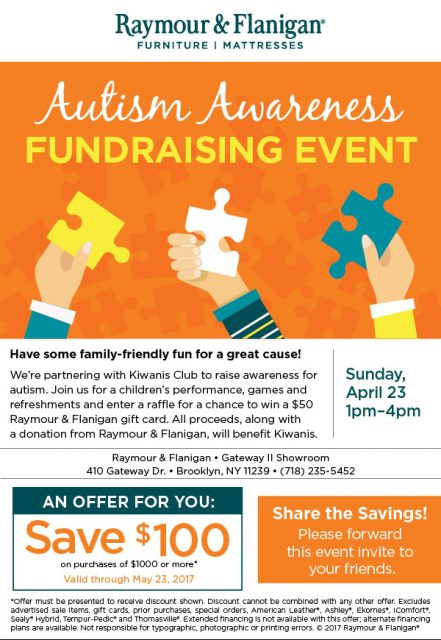 For Autism Awareness Month, the Raymour and Flanigan store in Canarsie, Brooklyn is giving back to our children with autism. Leading the charge is Store Manager Rick Ortiz:
Tell me about how this partnership came about.
Well, I have a team of 28 very dedicated associates, one of which is Haseeb Mohammed. He is a long-time Kiwanis member and cares deeply about HeartShare's work. This partnership is an idea that we started throwing around a couple years ago and now, it's happening.
So, you worked with Carol Verdi to learn more?
Yes, I've talked extensively with Carol and I have a greater interest in the work that you do now. HeartShare positively impacts the lives of children and I know how hard she works personally to raise funds all year round. Whenever I talk to her, she's planning something.
That sounds like Carol! Speaking of which, what do you have planned on the 23rd?
We are hosting a fundraiser on Sunday, April 23rd from 1 – 4 p.m. There's going to be a few planned activities, like a raffle, where guests could win a gift certificate to the store. We'll be selling autism awareness wristbands with puzzle pieces on it. There will be some games for kids and refreshments. And the highlight will be a performance from your children — at the residential program for children with autism. Whatever we raise on the 23rd, the local Kiwanis club will donate it to HeartShare programs.
That's wonderful. Thank you for organizing that! Is there anything else you'd like to add?
I really am proud to be a part of this community, as well as the Raymour and Flanigan family. The store doesn't necessarily dictate which organizations we can support. Instead, the associates and I come together as a team to brainstorm and then, give back however we can.
Learn more about the Sunday, April 23 event at 410 Gateway Drive, Brooklyn.