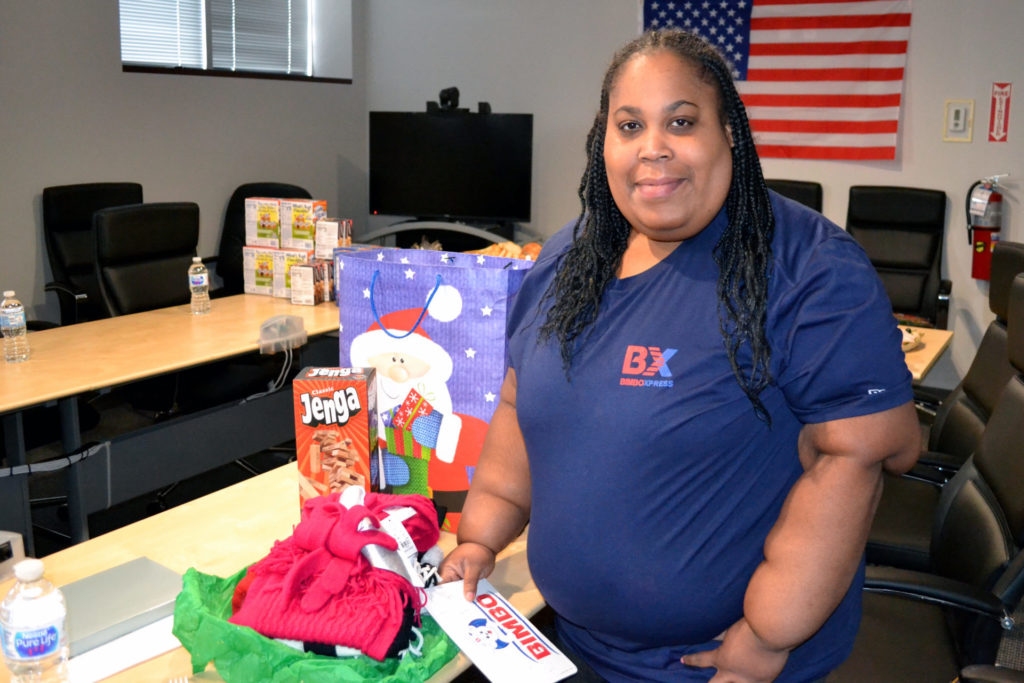 TGIF. For many nine-to-fivers, those four letters are a short-hand sigh of relief that the end of their work week is in sight. For Camille Tyson, however, TGIF means just the opposite. Every Friday, she goes to work at her dream job as an Office Clerk at the Maspeth Sales Center of Bimbo Bakeries USA, home to such popular brands as Arnold, Ball Park, Entenmann's, Sara Lee and Thomas'.
What might seem like a modest accomplishment for some is a major accomplishment for Tyson, who has been a part of the HeartShare family for years, attending the Queens Day Habilitation Program and often times starring in the Program's theater productions. Tyson completes organizational tasks like checking inventory lists once a week. For the first few weeks, Tyson's job coach, Shreece Taylor, would accompany her to each shift but now that she's learned the ropes she often works solo. Before landing this job, Tyson knew she wanted to do clerical work, and says when she found out about the opportunity at Bimbo Bakeries USA she was "very happy" and hopes to expand her hours to an additional day.
"I like working there," says Tyson. "The people are very nice to me. I like doing paperwork."
Her success story springs from HeartShare's Employment Services Department, which builds partnerships with area employers and matches jobs with an individual's interests and skillset.  Individuals are referred to HeartShare from the New York State Office for People with Developmental Disabilities (OPWWD) and Adult Career and Continuing Education Services-Vocational Rehabilitation (ACCES-VR). HeartShare's robust Work Readiness Training prepares them to enter the workforce and the Supported Employment Program (SEMP) through OPWDD and ACCESS-VR provides the guidance necessary for individuals to obtain and maintain paid positions. Individuals typically transition to SEMP after they secure a position through HeartShare's Employment Preparation Services. After the individual secures a job, HeartShare then assigns a dedicated Job Coach to support them in their new employment opportunity, and to assure the individual successfully maintains their job. HeartShare is currently supporting 20 individuals through their Supported Employment Program. These 20 individuals have been working in their current position for an average of three-plus years.
"It's important to get to the core of what an individual is passionate about, and to find a way to translate that into a position," says Mark Lupo, HeartShare's Job Development Coordinator, who was responsible for developing the partnership with Bimbo Bakeries USA and for finding a place for Camille. "Camille always had a dream to work as an Office Clerk, and the opportunity at Bimbo Bakeries USA made her dream a reality. It was a perfect match for both Camille and Bimbo Bakeries USA, and we are grateful to find an organization that was willing to offer her the opportunity to chase her dream."
In Bimbo Bakeries USA, Lupo discovered a company deeply committed to creating a culture that mirrors the communities where it lives and serves. And the benefits go both ways.
"Camille is a huge asset to us," says Jeanne Carrieri, Human Relations Director at Bimbo Bakeries USA. "She comes to work with a positive attitude and gives 100 percent effort. The team in Maspeth looks forward to her being there and values her work!  She is especially helpful to Naadira, our Office Coordinator, and provides great support to her."
"We believe in the HeartShare mission and want to continue to ensure that our associates are reflective of the communities we participate in and the consumers who love our products," says Len DeBlock, Vice President of Sales at Bimbo Bakeries USA.