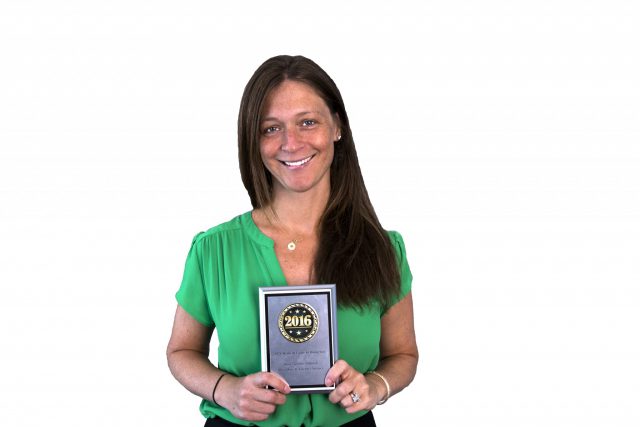 (New York, NY)— Dawn Saffayeh, Executive Director of HeartShare St. Vincent's Services (HSVS), was recognized as a New York Nonprofit Media (NYNM) Rising Star at a celebratory breakfast on Thursday, July 21, 2016.
The annual "40 Under 40" celebration honors 40 talented individuals under the age of 40 who work in New York City government, politics and advocacy. "It's an honor to be nominated and most importantly, to show how hard our team has worked to better serve our community," noted Saffayeh. "HSVS inherited nearly 250 years of experience in children's services. We now have the great privilege and responsibility to carry on that legacy, while also adapting to 21st century policy challenges and to the needs of New York's most vulnerable children and families."
When St. Vincent's Services affiliated with HeartShare Human Services in 2014, Dawn was responsible for creating a new, unified culture focused on outcomes while achieving fiscal stability. The new culture at HSVS is driven by a rigorous focus on measurement to assist both frontline and leadership staff in working toward ensuring every intervention adds value to the lives of our clients. As a result, HSVS achieved its rigorous accreditation from the international, independent Council on Accreditation this year. "Congratulations to Dawn and her team. I am proud of what the new HSVS administration has accomplished in such a brief time," noted HeartShare President and CEO Bill Guarinello.
Saffayeh brings experience from city government. Prior to her role as Executive Director, Dawn served as the Deputy Commissioner of Policy, Planning and Measurement at the NYC Administration for Children's Services. In this position, she oversaw data analysis, strategic planning and nonprofit agency performance. Her major achievements included the design and implementation of several reinvestment initiatives in the child welfare and juvenile justice systems. Prior to her ACS post, Dawn was a senior budget analyst at the City Office of Management and Budget. Dawn holds a Master's Degree of Public Administration from New York University and a Bachelor of Arts in Political Science from Fairfield University.
Today, HeartShare St. Vincent's Services serves over 6,000 children, youth and adults each year through child welfare, mental health, chemical dependence, housing and community programs. For more information on HeartShare St. Vincent's Services programs, visit www.hsvsnyc.org.