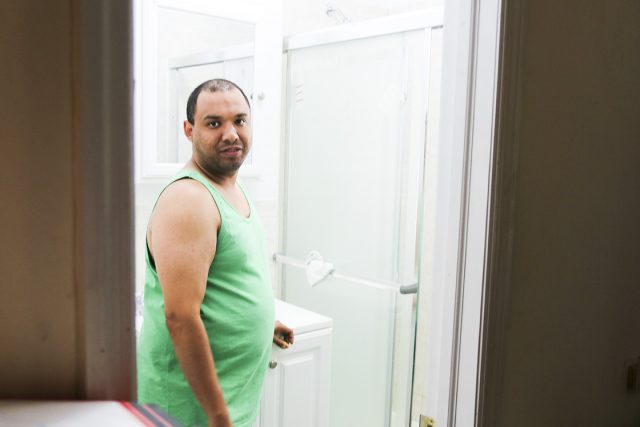 Jose Rodriguez Santos takes the HeartShare team on a tour of his new apartment. Jose had no permanent place to stay, but now he calls Bay Ridge, Brooklyn home.
"I didn't have a permanent place to live," said José Rodriguez, a 33-year-old man who now has his own apartment as a participant of HeartShare's Community Living Program.
José was born in Brooklyn, but after his parents died when he was 21, he went to live with his grandmother in Puerto Rico. When he returned to New York City last year, José was moving back and forth between his sister and his uncle often sleeping on the couch and without a room of his own. At the time, he was also working with Felix Colon with Birch Family Services, a caseworker who reached out to HeartShare. Five months later, José was placed in HeartShare's Community Living Program (CLP), which helps people with intellectual and developmental disabilities (I/DD) live independent and successful lives. He now lives on his own in Bay Ridge.
Since joining the HeartShare community, Jose has quickly learned new skills. With the help of Direct Support Professionals (DSPs) Glen Watson and Leslie Divers, Jose is cooking for himself, learning how to navigate the complex subway system, and now, seeking employment. When he was living in Puerto Rico, Jose did maintenance work for a restaurant. "I'm bilingual and I like helping people," said Jose. He is eager to utilize his skills for work here in the city. "I'm looking forward to getting a job soon. I just need to learn how to take the subway. That's the next step," said José.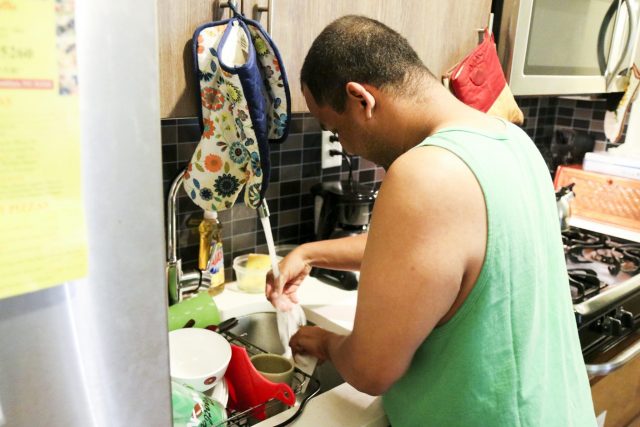 Jose, who participates in HeartShare's Community Living Program, has rapidly learned new skills since at the agency, including cooking and cleaning for himself, as well as navigating the subway.
In addition to the DSPs, HeartShare Resident Assistant Kendra Jordan is working with José. Kendra will occasionally call or visit José in his apartment to make sure that things are going well. With his own apartment, Jose is able to do some of the things he enjoys. "I spend time with my new roommate. I also like to go check out the stores around 86th Street and sometimes I'll walk towards the Verrazano Bridge to relax," said Jose.
"I'm one of the lucky ones. There are many people with disabilities out there that would love to be in my position. HeartShare has changed my life for the better and I would encourage anybody with a disability to reach out to HeartShare. There's help but you have to be willing to reach out," said José.
To learn more about HeartShare's Community Habilitation Program, you can call (718) 422-3276 or visit www.heartshare.org/our-programs/developmental-disabilities-services/community-habilitation/.