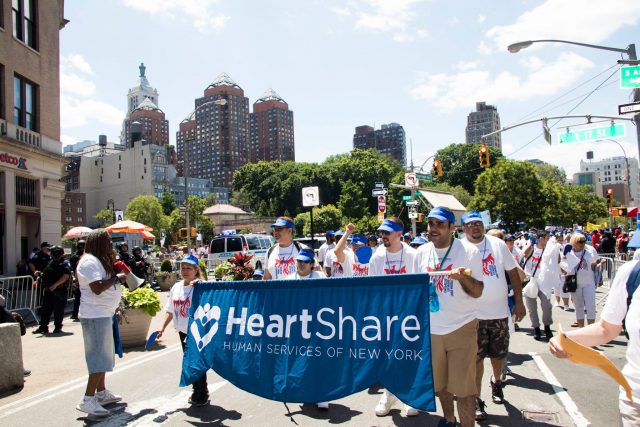 Two years ago, Mayor Bill De Blasio declared July as Disability Pride Month. On Sunday, July 9th, over 120 people from the HeartShare community, including program participants, their families, staff and supporters, marched with our team.
HeartShare has a long history of being a champion for New York's most vulnerable. 103 years this month to be exact. Our President and CEO Bill Guarinello, formerly a social worker, pulled forgotten people out of Willowbrook State School on Staten Island and singlehandedly led the creation of the agency's Developmental Disabilities programs. Since the late 1970s, we've innovated programs helping people who are differently abled become a part of the community — and independent.
In fact, we're leading the city, state and the country with innovative programming to achieve those goals, especially in the area of employment. At the request of the New York State Office for People With Developmental Disabilities (OPWDD), we've shared best practices with New York practitioners. We've travelled nationally to states allocating little to no funding to the operation of basic day habilitation programs.
At HeartShare, we've realized that doing our job is allowing our program participants to do theirs. Many adults with intellectual and developmental disabilities have long dreamed of working at a competitive job in the community that fits their skills and reflects their interests. We have truly advanced the traditional day habilitation model to provide real job opportunities and customized training to go with it.
From volunteerism to pre-employment training, our adults who are differently abled offer their skills and talents throughout the New York community. HeartShare is connected to Modell's Sporting Goods retail stories and Queens College, MCU Park and the 9/11 Museum, stables at GallopNYC, and senior centers. We cannot offer equal employment opportunities without this network of valued employers.
We are glad that folks came out to the Disability Pride Parade and we're glad that bystanders cheered us on. But we hope that spirit of inclusion, acceptance and respect compels you to action 365 days a year. Disability pride means welcoming a HeartShare group home to your street. It means having awareness that people with autism, cerebral palsy, Down Syndrome and other developmental disabilities are always people first. It means actually hiring someone who is differently abled — because they have much more to offer than you think.
Barbara Falcone is the Senior Director for Day and Employment Services and Joshua Skolnick is the Director of Transition and Employment Services at HeartShare Human Services, which supports and empowers people with intellectual and developmental disabilities.
If you're an employer ready to show your disability pride, please reach out to us at joshua.skolnick@heartshare.org or (646) 483–8910.