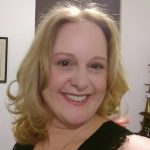 You've been very supportive of HeartShare's Employment Programs, which offer people with intellectual and developmental disabilities (I/DD) a fair chance to work. How did this all start?
Lyn Croyle: I handle many different things in this position, including marketing, human resources and financials. I also oversee 5 managers in dining services and directly manage the student union building at Queens College.
Who is currently working at Queens College?
LC: Well, there's Danny, Ronald and Kenneth, who do a great job of keeping the dining hall very clean. It's two rooms and a large area to cover. They work three hour shifts Monday through Friday.
What have you noticed about their work ethic?
LC: I immediately saw that they enjoy the work they do. They are good workers. Owen Ranft, who is the Director of Dining Services, brought Danny on. Since then, we've been approached by Roni Soriano, your Community Resource Specialist.
What has it been like working with the HeartShare team?
LC: Anyone who we hire is supported by a great team. HeartShare reviews potential tasks that their individuals can assist with. They help your individuals through the hiring process, which includes filling out an online application. After the start date, the HeartShare job coach is there to ensure that there's a smooth transition and everything goes well. If any issues arise, Roni is there to have a conversation with Danny, Ronald or Kenneth.
What motivates you to continue this partnership with HeartShare?
LC: To be honest, from my point of view, HeartShare is way more involved than other organizations I've worked with. They make the employment process and training easy for us. Most importantly, they really care. You talk to the administrative team, the job coach or other program people and it's so clear that this is more than their job. And you're more inclined to work with HeartShare because you have employees who care so much. It's a great partnership.
Thank you and that's great to hear! Now, tell me a little bit about yourself.
LC: I've been in the restaurant and food services management field for about 20 years now. I've been with Chartwells at Queens College for about 6. Recently, I've gone back to school for another Bachelor's in nutrition and dietetics. I hope one day to earn my Master's so that I can serve as an on-site dietitian at a non-profit.
Ah, it's no wonder you enjoy working with HeartShare!
LC: I would love to help women and children. Really just underserved people in a non-profit setting.
Thank you, Lyn Croyle, Assistant Director of Dining Services at Queens College, for giving a chance to people with I/DD and bringing their dream job within reach.
View our Employment Program video here. To learn more about how to become a HeartShare employment partner, please contact Joshua.Skolnick@heartshare.org.