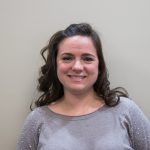 Each year, HeartShare's leadership selects dedicated employees to participate in its Management Training Program (MTP). MTP is for both new and seasoned professionals who lead teams at the agency. This is a series highlighting those people–to acknowledge their personal accomplishments and to share the breadth of what HeartShare and its Family of Services does in the community every day.
How long have you been with HeartShare?
Jessica Tomeo: I've been with HeartShare for 11 years now. I started as a Speech Language Pathologist at our Kiwanis First Step Pre-School in Howard Beach. I studied Speech Communication at St. Joseph's College and studied Speech Pathology at St. John's for my Master's. For the past two and a half years, I've been the Clinical Coordinator of Speech Services, which means that I supervise the speech therapists at our three Queens pre-schools.
That sounds like a big job. How is it?
JT: I took this position when my supervisor left. I thought I knew what she did, but I'm still learning!
So, what do most of the speech therapists do for our children?
JT: Well, I supervise our speech therapists across our Queens pre-schools who work with a total of 350 children, each with their own individual learning needs.
Wow, that's a lot of children!
JT: Yes, it is. Each of the SLPs have a case load of about 9-11 kids and sometimes, I jump in when we're short-staffed. I work often on EasyTrack, which we use to log case notes on the children. I'm always trying to match the right clinician to a child's needs. I also oversee hiring.
When you get the chance to jump in, what do those speech therapy sessions look like?
JT: The youngest child that we might have at the pre-school is 2 years, 9 months. That means that speech therapy can involve reading, but it's mostly play therapy. We can bring a child over to a doll house or a kitchen set, for example, to get him to interact. During the session, we can label items and then, model a social interaction through simple questions.
How does this impact the children that you work with?
JT: One little boy started with us in a class of 10. He had few words in his vocabulary and did not interact much with others. Through the play therapy, we worked with the boy to make his speech more functional, like saying "hello" and "goodbye." Most parent requests involve their desire to just hear their child talk more. Over the course of two years, the boy was able to start Kindergarten in a mainstream classroom.
How else do you work with special needs children?
JT: There's also feeding therapy. This might be when a child has a feeding tube or difficulty swallowing. The child might have a medical condition that requires a modified diet and we would have to transition a child only on puree to solid food. Sometimes, we just have a picky eater.
What's that like?
JT: Well, a child with autism might have something called food aversion. He might not like the texture of crunchy food because his sensory system can't handle it. To him, that crunchy food could feel like a razor blade. We have these interventions where we slowly integrate foods into their diets. At breakfast and at lunch, we start with the student touching the new food or even just sitting at the table with the new food.
Is there anything else you would like to add?
JT: I just love seeing progress in our children. Communication is such an important part of our lives and seeing that progress shows me that therapy really works. This is such a rewarding job and it means a lot that I can help children become more independent.
Thank you, Jessica, for all you do for our children!